Trim Heritage Trail
Vikings, Lords and Monks
Google Map of Trim Heritage Trail
1. Trim Visitor Centre
In the building beside Trim Castle is the Trim Visitor Centre. Here is 'The Power & the Glory' Multimedia exhibition painting a vivid picture of the historical background of the magnificent medieval ruins of Trim. The audio visual is available in English, French, Italian and German and is suitable for all ages.
The visitor centre offers a wide range of books, gifts, accommodation and tourist guides as well as quality craftwork from Meath and Ireland. The Coffee Shop 'The Ramparts' serve lunch food, home baked cakes, speciality teas/ coffees and food all day 7 days.
See too the model of Trim Castle and 'Braveheart' filmset, part of the modern story of Trim
Details of opening hours for the Visitor Centre and The Power & The Glory Multimedia Exhibition
2. Trim Castle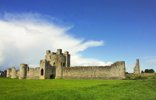 The finest Norman Castle in Ireland, started by Hugh de Lacy in 1173. Almost uniquely for a Norman castle of this scale in Europe, it has scarcely been modified since it was completed in the 13th century.
3. Sheep's Gate
The last remaining gate in a ruined section of the town walls which were built by Geoffrey de Geneville, who occupied Trim Castle during its hey-day in the second half of the 13th century. Access by permission only.
4. Talbot Castle
Built in 1415, the basement of the castle is believed to be an adapted remnant of the Abbey of St Mary. Access by permission only.
5. The Yellow Steeple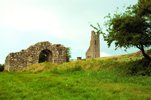 Belfry tower of the Augustinian Abbey of St Mary, rebuilt after a fire in 1368. This was the site of an important pilgrimage in honour of a miraculous image of the Virgin Mary until the Reformation. Access by permission only.
6. St Patrick's Cathedral
The 15th century church tower containing medieval grave stones is now attached to a 19th century church, behind which part of the 16th century chancel survives.
7. St. Peter & Paul Cathedral
Founded close to the temporal power of Trim Castle by the Norman bishop Simon de Rochfort in 1206, after his cathedral at Clonard was burned down, only a part of the original nave and chancel survive. This was the largest Gothic church in Ireland. Part of the ruined Priory of Augustinian Canons, which was established to maintain the Cathedral, also survives.
8. Hospital of St John the Baptist
This foundation of the Crusader Order of Crutched Friars was also established by Simon de Rochfort in the early 13th century.