Cycling
The Táin Trail Cycling Route runs for approx. 365 miles (585 kilometres) from Royal Rathcroghan in the West across the very heart of Ireland to the Cooley Peninsula on the East Coast and back again.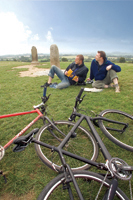 The cycling route follows the route taken by the legendary characters in the epic tale of An Táin Bó Cuailgne (the Cattle Raid of Cooley). The cycling trail retraces their steps as closely as possible and along its route are dotted many historical and heritage sites through Co. Roscommon, Co. Longford, Co. Westmeath, Co. Meath and Co. Louth.
The trail is fully signposted with distinctive brown bull finger-post signs, as well as pictorial maps in key towns along the route.
More information on bike hire and cycling holidays in Ireland