Trim Visitor Centre
Trim Visitor Centre, Tourist Office & Coffee Shop
Town Hall,
Castle Street
Tel: 046 943 7227
Fax: 046 943 8053
Email: trimvisitorcenter@eircom.net
In the Art Deco building beside Trim Castle is the Trim Visitor Centre & The Ramparts Coffee Shop.
The visitor centre offers a wide range of books, gifts, accommodation and tourist guides.
The Power and the Glory- Multimedia exhibition
This is an exciting multimedia exhibition which paints a vivid picture of the historical background of the magnificent medieval ruins of Trim.
The exhibition portrays the pinnacle of Trim's glorious past coincided with the early period of Norman power in Ireland. It demonstrates how the ruins of Trim castle and the surrounding abbeys act as a testament to the great bygone era in Royal County Meath. Chroniclers, knights and kings emerge through the mists of time to recount the tale of the coming of the Normans to Trim, and of their astonishing influence which revolutionised Irish towns, farms and government.
The exhibition is available in English, French, German & Italian and is suitable for all ages.
A visit requires 45 minutes approximately. Audio Visual shows start on the hour and half hour from 10am every day.
Audio Visual: The Power & The Glory
Admission: Adult: 3.20; OAP: 2.20; Student 1.90; Child 1.50
Group rate: Adult: 2.20; OAP 1.90; Student 1.90; Child 1.50
Opening times: Monday to Friday: 9.30-5.30 Last AV show 4.30
Saturday, Sunday & Bank Holiday 12.00-5.30 (seasonal) Last AV show 4.00
Open during lunch
Audio Visual available and booking is advisable for groups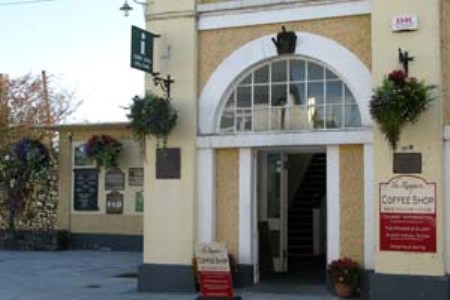 The Welcome All Cafe

The Coffee Shop 'The Welcome All Cafe' offers fresh home cooked food and serves lunch, home baking a speciality, teas/ coffees and food served 5 days a week.
Please Tel: (046) 9437227 for opening hours
Special Offer: Bowl of delicious home made soup with a sandwich of your choice with 2 fillings only 6 euro!!!
Indulge in one of their many Delicious home made desserts including apple crumble, apple pie, blackberry & apple pie & rubharb pie. The Ramparts also serves the cheapest & tastiest coffee in town!