Planning
Meath County Development Plan 2019-2025 website
Meath County Development Plan 2013-2019 website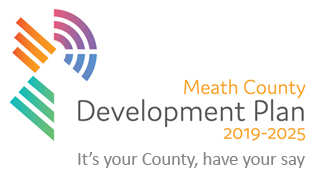 The planning process is an open and public one.
In that context all submissions/observations are a matter of public record and may also be placed on the Council's website.
Planning files from the period 1972 (72/900) to 1980 (80/1599) inclusive are only available from archives. A fee of €20 applies for a Planning Search and Retrieval of these files, which will be emailed to you within 3 working days.
Draft Variation No 2 Navan Development Plan 2009-2015 - Closing date for submissions is: 4pm Wednesday 12th April 2017
Draft Variation No 1 Kells Development Plan 2013-2019 - Closing date for submissions is: 4pm Wednesday 12th April 2017
Popular
Development Plans and Publications
Meath County Development Plan 2013-2019
All correspondence relating to Planning as documented below can only be lodged at the Planning Department, Buvinda House, Dublin Road, Navan, Co Meath
Planning Applications accompanied by a fee
Further information responses
Submissions from the public together with fees
Compliance proposals
Payments for Development contributions
Submissions to forward planning / zoning proposals
Public Opening Hours: 9.00am – 1.00pm & 2.00pm – 4.00pm Monday to Friday