Taxonomy List
Location Profiles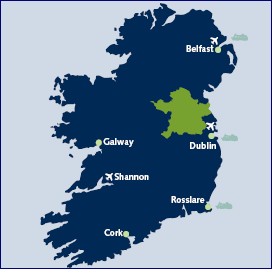 Meath County Council is committed to ensuring an adequate supply of suitable lands zoned for economic development purposes. A range of options for greenfield sites is available in all the major towns in the county and this is constantly under review. In addition, there is a ready selection of existing industrial, commercial, office and retail options.
"We are ideally located with the M2 Motorway linking us directly to Dublin City, Dublin Port and most importantly the Airport. While the "quality of life" that is available to our staff makes this an excellent location for our business and our staff". – Largo Foods Exports Ltd.  
Meath is located to the north west of the greater Dublin area. It has 4 of the 6 spoke motorways from the capital crossing its length. Meath is close to Dublin Airport and Dublin Port with a typical commuting time to the airport of 30 minutes. Meath can offer your business a wide range of locations from Business Parks to Industrial Estates, all with the necessary services to support your business.
With lower housing and commuting costs, Meath represents a "value for money" location for your staff.
Meath can provide the location, the people, the skills, the languages and the services that can offer you an excellent place for your business.
View Meath Business Opportunities for the locations below: