Sale of the Register
When you register to vote you are asked if you wish to opt out of the edited register. The edited version of the register is made available for sale.
Two versions of the register of electors are compiled - the full register and the edited register.
The full register lists everyone who is entitled to vote and can only be used for an electoral or other statutory purpose.
The edited register contains the names and addresses of voters who have agreed that their details can be used for purposes other than elections i.e. direct marketing by a commercial or other organisation.
You can opt out of the edited register when you register to vote. To do so, tick the 'opt out box' (section 3 column (V) of the form) as shown in the image below: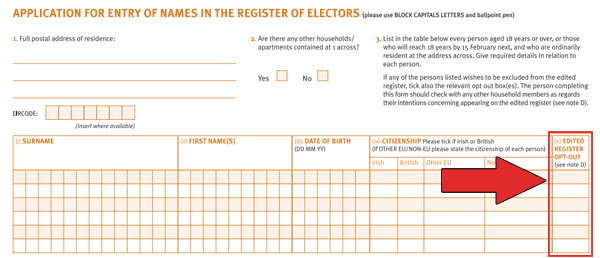 Sales Enquiries
The Edited Version of the Electoral Register is available for sale.
For details contact:
 registerofelectors@meathcoco.ie