Climate Change
The vision of our Climate Action Strategy is to make County Meath a climate ready region that supports jobs, growth and healthy lifestyles.
Climate Change is a reality and local authorities like Meath County Council are at the forefront of advancing climate adaptation and mitigation in Ireland.
Climate Action - What you can do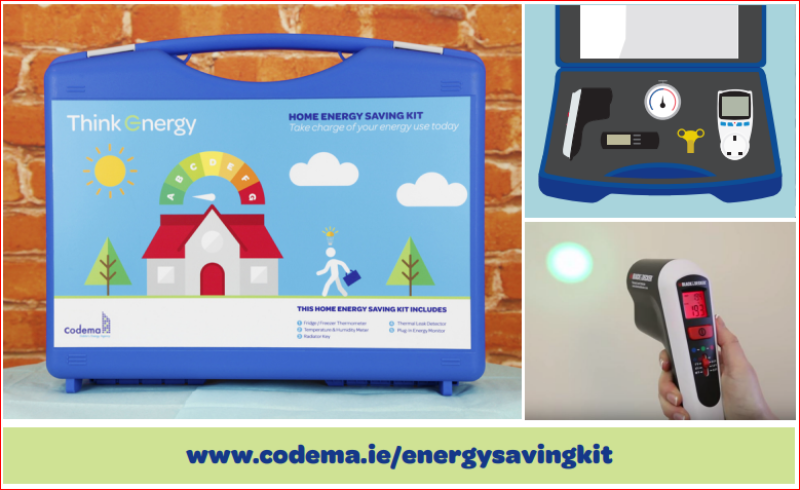 Home Energy Saving Kits
The Home Energy Saving Kit is the ultimate toolkit that helps you save energy at home.
With 5 easy-to-use tools and 6 practical exercises, this kit allows you to get a better understanding of the energy usage in your home, problem areas that may need your attention and ways to improve energy efficiency.
Did you know by implementing easy energy saving measures, you could reduce your energy bill by up to 20% while improving the comfort of your home and helping contribute to a better environment at the same time. It's a no brainer.
The Home Energy Saving Kit is available to borrow from all Meath Libraries. You can borrow it for 3 weeks at a time and have the option to renew the loan if nobody else is waiting. To borrow a kit please contact your local Meath library.
Green Kilometre Scheme
We are aware that there are many groups and individuals around the county who would like to contribute to their local community.
The scheme invites individuals/groups to choose approximately a kilometre (or longer) stretch of road/loop in their area- preferably a quiet, local road in terms of safety. The group or individual would then commit to maintaining the chosen stretch over the course of the year. 
Incentives of some native trees, litter pickers, bags and gloves are on offer for all participating individuals/groups. Most importantly the scheme is an opportunity for you or your community to work together on a project which benefits everybody.
Please fill out the Green Kilometre Participation Form available at the link below and return it to us at environment@meathcoco.ie if you are planning to take part, or by post to Environment Section, Meath County Council, Buvinda House, Dublin Rd, Navan, Co Meath.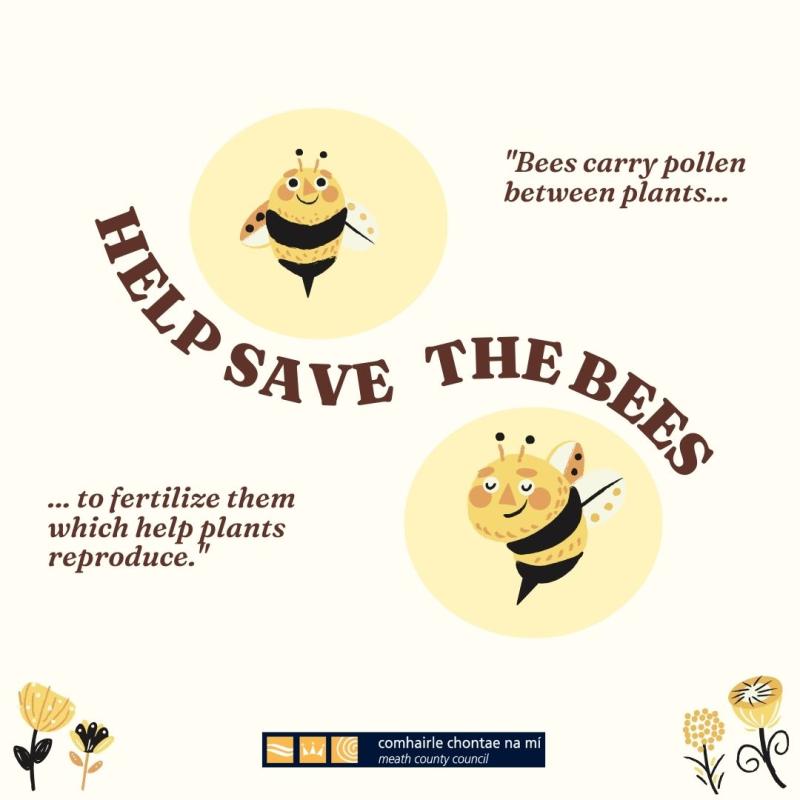 Helping Nature
You may not realise it, but by cutting the grass in our gardens and on our green areas, we reduce the number of wild flowers and plants which bees need to collect pollen in order to survive, make honey and to pollinate other plants. Although bees and other insects can be seen as pests the reality is that the loss of our bees will mean a reduction in the quality and quantity of our locally produced fruit and vegetables.
Two of the native Irish bee species have already become extinct but there are simple steps which you can take which will help to save the bees and other pollinators in Ireland.
-    Plant flowers and shrubs which will flower in spring and autumn
-    Leave an area of your grass uncut so that flowers such as daisies and dandelions can flower there
-    If you do not have a garden and only have a balcony you can grow herbs in plant pots which will flower throughout the year
-    Plant fruit trees
-    Plant bee friendly plants such as lavender and comfrey
Want to take action to help the ecosystem in your area but not sure how?
Here are some things you can do this summer to promote biodiversity:
1.    Cut your grass on a 6-week rotation. Cutting less often allows wildflowers to grow and provides important food for insects, especially pollinators like bees.
2.    Use mineral sun cream. Most sun creams contain chemical UV filters that often cause allergies. When they end up in the sea, lakes and rivers, they can disrupt the hormonal balance of animals and are partially responsible for coral bleaching.
3.    Limit outdoor lighting at night. Artificial light can disturb many species – for example nocturnal animals can have difficulty seeing obstacles, prey and predators. 
4.    Organise a neighbourhood clean-up. By getting together and cleaning up rubbish, you will limit the pollution of ecosystems.

Join a Sustainable Energy Community
Why Join a Sustainable Energy Community? You can take action to ensure your community does its bit for Climate Action by joining the SEAIs Sustainable Energy Communities Programme. The SEC programme helps communities become energy smart and more sustainable.
Grant aid is available to insulate buildings and improve lighting and heating systems, incorporating renewable energy in the form of solar panels/heat pumps and adopting smart technologies such as smart controls, and more.
Find out more in our Sustainable Energy Community section.
Information About Climate Change Effects
Global Temperatures
The World Meteorological Organisation announced last month that there is a 50/50 of average global temperatures exceeding 1.5°C in the next 5 years. 
Why is average global temperature increasing by 1.5°C a big deal?
Firstly, the increase of 1.5°C is measured against a baseline from mid-to-late nineteenth century. And secondly, it's important to remember that when we talk about global average temperatures increasing, this is the Earth's average temperature – some places around the world have already crossed this line. And in some places, temperatures could rise significantly past 1.5°C.
The IPCC projects that going from 1.5 degrees of global warming to 2 degrees could mean:
•    1.7 billion more people experience severe heatwaves at least once every five years.
•    Seas rise – on average – another 10 centimetres 
•    Up to several hundred million more people become exposed to climate-related risks and poverty.
•    The coral reefs that support marine environments around the world could decline as much as 99 percent.
•    Global fishery catches could decline by another 1.5 million tonnes.
Wetlands
Did You Know: 
-    The loss of wetlands is currently three times faster in percentage terms than forest loss.
-    Wetlands include swamps, marshes, bogs, and other similar areas.
-    Around 87% of inland wetlands worldwide have disappeared since 1700.
-    Globally, Ireland contains 8% of the world's blanket bog, but much of it is in poor condition and requires careful management to bring it back to favourable condition.
-    Wetlands are important ecosystems and can help combat climate change because they are natural carbon sinks
-    Carbon Sinks are any process, activity or mechanism that removes carbon from the atmosphere. The biggest carbon sinks are the world's oceans, wetlands and forests, which absorb large amounts of carbon dioxide from the Earth's atmosphere.
Meath County Council Climate Actions
Meath County Council's Responsibilities
While we are responsible for emissions and adaptations, we are also influencers in such areas as energy, waste management, air quality, biodiversity, surface water management, planning, building control, transport choices etc.
We have responsibilities in terms of energy usage and choice of supply/source in our public lighting, buildings, depots, leisure facilities, in our housing stock, and our fleet. We are committed to achieving targets set for 2020 and 2030 in respect of energy efficiency, increase in renewables and decreases in Green House Gases (GHGs) associated with these areas of responsibility.
Local Authorities are best placed to identify risk and vulnerabilities and to action them, across a wide spectrum of areas and under a variety of EU, National and Local Policies and Regulations
The main purpose of the Climate Action Strategy (above) is to outline practical actions that will help County Meath adapt to and mitigate against climate change, and specifically across the key sectors over which Meath County Council exercise at least some level of operational control or influence.
Pride of Place Climate Action Category
To further Climate Action in Meath, there is now a Climate Action Category for our Pride of Place awards.
In 2021 the Village of Kilbride won this Category with projects such as:
-    Community Garden initiative
-    Rainwater Harvesting
-    Library book/game Swap Station
-    Seed Swap station
-    Educational signs about Native Irish Wildflowers, Native Irish Birds and Irish Garden Butterflies
Congratulations to Kilbride on all their Climate Action efforts.
Trim to pilot localisation of Sustainable Development Goals
Our recent application to URBACT (a European exchange and learning programme promoting sustainable urban development) to localise the Sustainable Development Goals (SGDs) has been successful.  This pilot project, 'SDGs in cities', will bring 19 towns and cities from across Europe together to learn from each other, build capacities to the localisation process and develop tools for localising the SDGs. 39 cities applied, with Trim being the only Irish town selected. The project which will last approximately 20 months is 70% co-funded by the European Regional Development Fund.
The pilot has four areas; awareness, establishing a local agenda, planning the implementation and monitoring and evaluation. 
Electric Vehicles
We are looking to play our part in promoting the uptake of electric vehicles within Meath as a mechanism to reduce fossil fuels use in the transport sector. On June 1st 2022, we held an Electric Vehicle lunchtime showcase event to encourage the uptake of Electric Vehicles among staff.
The event showcased 11 cars from 5 different garages around Navan and followed on from a lunch and learn session with the Sustainable Energy Authority of Ireland (SEAI) the previous week. The lunch and learn session aimed to educate and address consumers concerns over electric vehicles, whilst the demonstration event allowed staff to see the models up close and arrange test drives with the car dealers.