Children's Book Festival Family Day
Children's Book Festival Family Day
Sunday 20th October 2019
Meath Library Service has teamed up with some of Ireland's most popular authors to bring you our fourth Children's Book Festival Family Day. 
Booking is essential for the scheduled workshops below.  To book a place contact Navan Libray.
Illustration Techniques with Oisín McGann
2.00  - 3.00 pm
For ages 8 - 10. Booking essential.
Oisín is a bestselling and award-winning writer and illustrator and he is currently the Writer-in-Residence for Meath Libraries. In this fun, interactive session he'll be showing some drawing techniques and participants will help him create a monster.  
Creative Writing with Helena Duggan
2.15 - 3.15 pm  & 3.45 - 4.15 pm
For ages 8 -12. Booking essential.
Spend a hour packed with loads of fun and mystery as Helena steals your imagination with her rose tinted glasses.  The question is will you be able to get it back?
I say OOH, You say AAH Interactive Story & Craft Session with John O'Kane (SF/RP)
3. 15 - 4.00 pm & 4.15 - 5.00 pm
Ages 3+ SF/RP. Booking essential.
John Kane creates books that need the audience to take part.  In this event he will be talking about words that go together, favourite forgotten animals and he will read his award winning debut picture book "I say OOH, You say AAH".  This 45 minutes session will be an interactive play along spectacular featuring donkeys with underpants! RP/SF
For a Social Story for this event please email navanlib@meathcoco.ie  
Book Up-Cycling 
3.00 - 3.45 pm & 4.00 - 4.45 pm
For Ages 9+. Booking essential.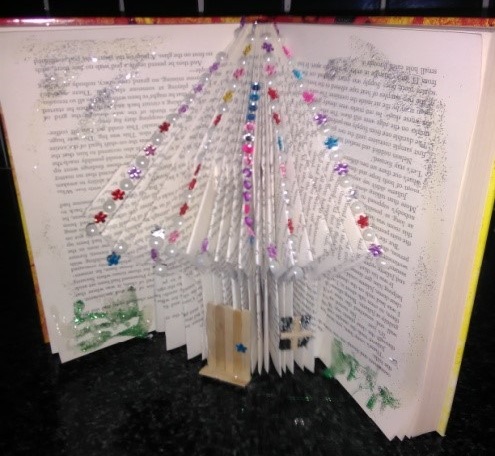 This is a lovely craft class for ages 9+.  Fiona will show how to turn old books into fantastic fairy houses.  Learn some paper craft techniques that will inspire creativity.
And there's more.....
STEAM Games 
A selection of our STEAM games for ages 3 - 12 will be available for families to play with together. Have a game of Jenga or construct something fantastic with Geomags or Lego.
Recommend a Read Board
Do you fancy yourself a bit of a book doctor?  Then grab a marker and post a review or recommendation of your last great read.  
TV Screening of Hands Archival Films on Traditional Irish Crafts 
HANDS is a unique, multi-award winning series of thirty-seven documentaries on Irish crafts. Made by the renowned filmmaking team, David and Sally Shaw-Smith, it was originally produced for Irish television (RTÉ). We will be showing a selection of these films during the afternoon.
Antonia's Book Store
Staff from Antonia's Book Store in Trim will be on site with a selection of books for sale, including those of our visiting authors.  (Books can be signed on request.)
Tea, coffee, juice and lights snacks will be available free of charge throughout the afternoon.