We've compiled a list of historical romances for anyone who is enjoying the exploits of the the Bridgertons on Netflix.  Some on the list are more daring and match the society scandal of the Netflix drama, while others are more demure offerings from the genre from authors like Jane Austen and Georgette Heyer. And we've thrown in a few non-fiction titles that might prove more intriguing than the fiction!  
The Bridgerton Series by Julia Quinn
This is the book series on which the Netflix drama is based. It follows the 8 children (alphabetically named) of Viscount Bridgerton and is narrated by Lady Whistledown, a gossip columnist. When the author started writing the series she had planned only a trilogy, but it proved so popular that she wrote another 5 books.  Then, due to more demand from fans of the series, she wrote updates for all the main characters that were published as The Bridgertons: Happily Ever After.
Mistresses : Sex and Scandal at the Court of Charles II
by Linda PorterT
According to the great diarist, John Evelyn, Charles II was 'addicted to women', and throughout his long reign a great many succumbed to his charms. Clever, urbane and handsome, Charles presided over a hedonistic court, in which licence and licentiousness prevailed.
Mistresses is the story of the women who shared Charles's bed, each of whom wielded influence on both the politics and cultural life of the country. From the young king-in-exile's first mistress and mother to his first child, Lucy Walter, to the promiscuous and ill-tempered courtier, Barbara Villiers. From Frances Teresa Stuart, 'the prettiest girl in the world' to history's most famous orange-seller, 'pretty, witty' Nell Gwynn and to her fellow-actress, Moll Davis, who bore the last of the king's fifteen illegitimate children. From Louise de Kéroualle, the French aristocrat – and spy for Louis XIV – to the sexually ambiguous Hortense Mancini. Here, too, is the forlorn and humiliated Queen Catherine, the Portuguese princess who was Charles's childless queen.
Drawing on a wide variety of original sources, including material in private archives, Linda Porter paints a vivid picture of these women and of Restoration England, an era that was both glamorous and sordid.
The Grand Sophy by Georgette Heyer
Read on BorrowBox
Perfect period detail and rapturously romantic from one of the best known and beloved romantic novelists!
When the redoubtable Sir Horace Stanton-Lacy is ordered to South America on Diplomatic Business he parks his only daughter Sophy with his sister's family, the Ombersleys, in Berkeley Square.
Upon her arrival, Sophy is bemused to see to see her cousins are in a sad tangle. The heartless and tyrannical Charles is betrothed to a pedantic bluestocking almost as tiresome as himself; Cecilia is besotted with a beautiful but quite feather-brained poet; and Hubert has fallen foul of a money-lender.
It looks like the Grand Sophy has arrived just in time to sort them out, but she hasn't reckoned with Charles, the Ombersleys' heir, who has only one thought - to marry her off and rid the family of her meddlesome ways.
Sprig Muslin by Georgette Heyer
A delightful, witty Regency romance by the creator - and the finest proponant - of the genre.
Finding so young and pretty a girl as Amanda wandering unattended, Sir Gareth Ludlow knows it is his duty as a man of honour to restore her to her family. But it is to prove no easy task for the Corinthian. His captive in spring muslin has more than her rapturous good looks and bandboxes to aid her - she is also possessed of a runaway imagination...
A typically enthralling historical novel, Sprig Muslin shows the skill which has kept Georgette Heyer a huge and devoted readership to this day.
Rivals of Fortune by Jane Ashford (Read by Gemma Dawson)
Joanna Rowntree thinks she will die of a broken heart when her one true love marries another – until not one but two fascinating newcomers appear on neighbouring estates. As the rough hewn Jonathan Erland and the polished Sir Rollin Denby engage in a heated competition for her hand, Joanna realises her heart is alive and well – but to whom will she give it?
First Season by Jane Ashford (Read by Jan Cramer)
Widowed Lady Anabel Wyndham was married right out of the schoolroom and has never before experienced the delights of a London Season. She's dazzled by the attention of the fascinating Sir Charles Norbury, a man whose touch seems to melt her very soul, but a notorious rake. She's drawn to handsome friend-of-the-family Christopher Hanford and the comfort and serenity he offers.
But how does one choose between two such charming suitors? Anabel is finding that love is so much more dangerous the second time around.
Heiress Gone Wild
by Laura Lee Guhrke
Dear Lady Truelove,
My ward is driving me crazy. I have to marry her off and get her out of my life. There's just one problem…
When Jonathan Deverill promised a dying friend he'd be guardian to the man's daughter, he envisioned a girl in pigtails and pinafores, a child he could leave behind in some finishing school. Problem is, his ward is actually a fully-grown, defiant beauty whose longing for romance threatens to make his guardianship a living hell.
New York heiress Marjorie McGann wants a London season and a titled husband who can help her spend the Yankee millions she's inherited, and she thinks her new British guardian is the perfect person to help her find him. But Jonathan has no intention of letting his friend's fortune be squandered. Under his watchful, protective eye, Marjorie finds romance hard to come by . . . until one fateful night when her own guardian's devastating kisses makes her wonder if the greatest romance of all might be right in front of her.
A Prince on Paper (Reluctant Royals) by Alyssa Cole
Read by Karen Chilton Listen on BorrowBox
Nya Jerami fled Thesolo for the glitz and glamour of NYC but discovered that her Prince Charming only exists in her virtual dating games. When Nya returns home for a royal wedding, she accidentally finds herself up close and personal—in bed—with the real-life celebrity prince who she loves to hate.
For Johan von Braustein, the red-headed step-prince of Liechtienbourg, acting as paparazzi bait is a ruse that protects his brother—the heir to the throne—and his own heart. When a royal referendum threatens his brother's future, a fake engagement is the perfect way to keep the cameras on him.
Nya and Johan both have good reasons to avoid love, but as desires are laid bare behind palace doors, they must decide if their fake romance will lead to a happily-ever-after.
The Matrimonial Advertisement
by Mimi Matthews (Read by Justine Eyre)
Parish Orphans of Devon - Book 1
A delightful and romantic series opener, brimming with beautiful characters, a haunting Victorian setting and some truly engrossing social history.
Helena Reynolds will do anything to escape her life in London, even if that means travelling to a remote cliffside estate on the North Devon coast and marrying a complete stranger. But Greyfriar's Abbey isn't the sort of refuge she imagined. And ex-army captain Justin Thornhill – though he may be tall, dark and devastatingly handsome – is anything but a romantic hero.
Justin has spent the last two decades making his fortune, settling scores and suffering a prolonged period of torture in an Indian prison. Now, he needs someone to smooth the way for him with the villagers. Someone to manage his household – and warm his bed on occasion. What he needs, in short, is a wife and a matrimonial advertisement seems the perfect way to acquire one.
Their marriage was meant to be a business arrangement and nothing more. A dispassionate union free from the entanglements of love and affection. But when Helena's past threatens, will Justin's burgeoning feelings for his new bride compel him to come to her rescue? Or will dark secrets of his own force him to let her go?
'Matthews has a knack for creating slow-building chemistry and an intriguing plot with a social history twist.'  —  Library Journal
'A Victorian romance in all its glory … a delightful treat for Jane Austen and historical fiction fans.'  —  Readers' Favorite
A Modest Independence

by Mimi Matthews (Read by Alex Wyndham)
Parish Orphans of Devon - Book 2
From the gaslit streets of London to the lush tea gardens of colonial India, Jenny and Tom embark on an epic quest – and an equally epic romance.
Solicitor Tom Finchley has spent his life using his devious intellect to solve the problems of others. As for his own problems, they're nothing that a bit of calculated vengeance can't remedy. But that's all over now. He's finally ready to put the past behind him and settle down to a quiet, uncomplicated life. If only he could find an equally uncomplicated woman.
Former lady's companion Jenny Holloway has just been given a modest independence. Now, all she wants is a bit of adventure. A chance to see the world and experience life far outside the restrictive limits of Victorian England. If she can discover the fate of the missing Earl of Castleton while she's at it, so much the better.
From the gaslit streets of London to the lush tea gardens of colonial India, Jenny and Tom embark on an epic quest – and an equally epic romance. But even at the farthest edges of the British Empire, the past has a way of catching up with you ...
A

 

Convenient Fiction by Mimi Matthews (Read by Alex Wyndham)
She Needed a Husband ... He Wanted a Fortune ...
It's been three years since Laura Hayes's father died, leaving her and her invalid brother to subsist on the income from the family's failing perfume business. But time is swiftly running out. What she needs is a husband – and fast. A noble gentleman who can rescue them all from penury. When a mysterious stranger arrives in the village, he seems a perfect candidate. But Alex Archer is no hero. In fact, he just might be the opposite.
Alex has no tolerance for sentiment. He's returned to England for one reason only: to find a wealthy wife. A country-bred heiress in Surrey seems the perfect target. But somewhere between the village railway station and the manor house his mercenary plan begins to unravel. And it's all the fault of Laura Hayes – a lady as unsuitable as she is enchanting.
From the beaches of Margate to the lavender fields of Provence, a grudging friendship slowly blossoms into something more. But when scandal threatens, can a man who has spent his entire life playing the villain finally become a hero? Or will the lure of easy riches once again outweigh the demands of his heart?
Mr. Darcy's Guide to Courtship : The Secrets of Seduction, from Regency England's most Eligible Bachelor / by Fitzwilliam Darcy

Inspired by the works of Jane Austen, the amusingly tongue-in-cheek Mr Darcy's Guide to Courtship is written from the perspective of Pride and Prejudice's Mr. Darcy and closely based on real Regency advice manuals. It is a hilarious and irreverent picture of the social mores of the period and of how men thought about women and sheds amusing light on men of the modern age, too! Readers can dip into different sections for Darcy's views on a myriad of issues, including "What Females Want", "The Deceptions of Beautiful Women" and "Winning Their Affections, Flattery, Making Conversation, and Flirting!" Also included are sections written by Pride and Prejudice's Miss Caroline Bingley and Mr Darcy's correspondence with famous Regency figures including the Duke of Wellington.
Daughters of a Nation 
This collection of 4 novellas, set between the years 1868-1917, tells the stories of four African American women fight tirelessly for change while finding love in the process.
In the Morning Sun by Lena Hart , The Washerwomen's War by Piper Huguley, A Radiant Soul by Kianna Alexander and Let us Dream by Alyssa Cole.  
  With the election of 1868 underway, Madeline Asher's mission is clear: educate and enlist the freedmen of Nebraska to vote. After losing the man she loved to war—and a small piece of herself along the way—Madeline leaves her life in Philadelphia behind, determined to reclaim her life's purpose by making a difference in others.

With America's Southern Rebellion at an end, so are the efforts of Union veteran James Blakemore. Tired of the injustices still plaguing the young country, he sets his sights toward his Canadian roots—until fate guides him back to the love he thought he'd lost.

Vowing never to leave her side again, James joins Madeline in her cause to help the freedmen of Dunesville, despite rising threats and violence. But with Nebraska's anti-miscegenation laws in effect, Madeline is forced to choose between a life with her new husband or the chance to shape a greater nation.       
A Radiant Soul by Lianna Alexander
A woman's work is never done...especially when she is fighting for those who will come after her.

In 1881, Sarah Webster returns home to Fayetteville, NC for her mother's milestone birthday. Her suffrage work is unknown to her family. Carpenter Owen Markham is intrigued by Sarah, and her father is playing matchmaker. When Owen discovers Sarah's suffrage work, he's not sure a love match can be made.
Let us Dream by Alyssa Cole.  
A rebellious cabaret owner and her stubborn chef pursue, life, liberty, and happiness in 1917 Harlem... and find love where they least expect it.

After spending half her life pretending to be something she's not, performance is second nature for cabaret owner Bertha Hines. With the election drawing near and women's voting rights on the ballot, Bertha decides to use her persuasive skills to push the men of New York City in the right direction.

Chef Amir Chowdhury jumped ship in New York to get a taste of the American Dream, only to discover he's an unwanted ingredient. When ornery Amir reluctantly takes a job at The Cashmere, he thinks he's hit the bottom of the barrel; however, working at the club reignites his dream of being a force for change. His boss, Bertha, ignites something else in him.

Bertha and Amir clash from the start, but her knowledge of politics and his knowledge of dance force them into a detente that fans the flames of latent desire. But Bertha has the vice squad on her tail, and news from home may end Amir's dream before it comes to fruition. With their pasts and futures stacked against them, can Amir and Bertha hold on to their growing love?
An Uncommon Courtship by Kristi Ann Hunter
Life for Lady Adelaide Bell was easier if she hid in her older sister's shadow--which worked until her sister got married. Even with thepressure of her socially ambitious mother, the last thing she expected was a marriage of convenience to save her previously spotless reputation.
Lord Trent Hawthorne couldn't be happier that he is not the duke in the family. He's free to manage his small estate and take his time discovering the life he wants to lead, which includes grand plans of wooing and falling in love with the woman of his choice. When he finds himself honor bound to marry a woman he doesn't know, his dream of a marriage like his parents' seems lost forever.
Already starting their marriage on shaky ground, can Adelaide and Trent's relationship survive the pressures of London society?
The Governess of Penwythe Hall by Sarah E. Ladd (Read by Jude Mason)
Cornwall, England, 1811: Blamed for her husband's death, Cordelia Greythorne fled Cornwall and accepted a governess position to begin a new life. Years later her employer's unexpected death and his last request to watch over his five children force her to reevaluate. She can't abandon the children now that they've lost both parents, but their new guardian lives at the timeworn Penwythe Hall . . . back on the Cornish coast she tries desperately to forget.
Jac Trethewey is determined to revive Penwythe Hall's once-flourishing apple orchards, and he'll stop at nothing to see his struggling estate profitable again. He hasn't heard from his brother in years, so when his nieces, nephews, and their governess arrive unannounced at Penwythe Hall, he battles both grief of this brother's death and bewilderment over this sudden responsibility. Jac's priorities shift as the children take up residence in the ancient halls, but their secretive governess—and the mystery shrouding her past—proves to be a disruption to his carefully laid plans.
Rich with family secrets, lingering danger, and the captivating allure of new love, this first book in the Cornwall Novels series introduces us to the Twethewey family and their search for peace, justice, and love on the Cornish coast.
Counting on a Countess by Eva Leigh (Read by Zara Hampton-Brown)
Listen on BorrowBox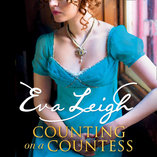 For a shameless libertine and a wily smuggler in the London Underground, marriage is more than convenience—it's strategy . . .Christopher "Kit" Ellingsworth, war veteran and newly minted Earl of Blakemere, buries his demons under every sort of pleasure and vice. His scandalous ways have all but emptied his coffers . . . until a wealthy mentor leaves him a sizeable fortune. The only stipulation? He must marry within one month to inherit the money. Kit needs a bride and the bold, mysterious Miss Tamsyn Pearce seems perfect.
Husband hunting isn't Tamsyn's top priority—she's in London to sell her new shipment of illicit goods—but she's desperate for funds . When a handsome earl offers to wed her and send her back to Cornwall with a hefty allowance, Tamsyn agrees.But when an unexpected proviso in the will grants Tamsyn control of the inheritance, their arrangement becomes anything but convenient. Now, Kit's counting on his countess to make his wildest dreams a reality and he plans to convince her, one pleasurable seduction at a time…
The Wallflower Wager by
Tessa Dare (Girl Meets Duke - Book 3)
Read on BorrowBox        Listen on BorrowBox
The irresistible Regency romance from the author of The Governess Game and The Duchess Deal
'I absolutely adored it. I laughed out loud numerous times… Love her writing.' Jodi PicoultThe addictive new Regency read from the New York Times bestselling author that's perfect for fans of Georgette Heyer!They call him the Duke of Ruin.To an undaunted wallflower, he's just the beast next door.Wealthy and ruthless, Gabriel Duke clawed his way from the lowliest slums to the pinnacle of high society—and now he wants to get even.Loyal and passionate, Lady Penelope Campion never met a lost or wounded creature she wouldn't take into her home and her heart.When her imposing—and attractive—new neighbour demands she clear out the rescued animals, Penny sets him a challenge. She will part with her precious charges, if he can find them loving homes.Rising to the challenge, Gabriel, who wouldn't know a loving home from a workhouse, is bewitched by the shyly pretty spinster who defies his every attempt to resist. But now she's set her heart and mind on saving him…Not if he ruins her first.
Pride and Prejudice

by Jane Austen
When Elizabeth Bennet first meets eligible bachelor Fitzwilliam Darcy, she thinks him arrogant and conceited; he is indifferent to her good looks and lively mind. When she later discovers that Darcy has involved himself in the troubled relationship between his friend Bingley and her beloved sister Jane, she is determined to dislike him more than ever. In the sparkling comedy of manners that follows, Jane Austen shows the folly of judging by first impressions and superbly evokes the friendships, gossip and snobberies of provincial middle-class life.
The Penguin English Library - 100 editions of the best fiction in English, from the eighteenth century and the very first novels to the beginning of the First World War.
Charlotte by
Helen Moffett
Everybody believes that Charlotte Lucas has no prospects. She is unmarried, plain, poor and reaching a dangerous age. When she stuns the neighbourhood by accepting the proposal of buffoonish clergyman Mr Collins, her best friend Lizzy Bennet is appalled by her decision. Yet this is the only way Charlotte knows how to provide for her future. Her married life will propel her into a new world: not only of duty and longed-for children, but secrets, grief, unexpected love and friendship, and a kind of freedom.
Jane Austen cared deeply about the constraints on women in Regency England. This powerful reimagining takes up where Austen left off in Pride and Prejudice, showing us a woman determined to carve a place for herself in the world. Charlotte offers a fresh, feminist addition to the post-Austen canon, beautifully imagined, and brimming with passion and intelligence.
An enjoyable and entertaining read which explores women's constrained choices in early 19th-century  England.  —  Historical Novels Review
The Other Bennet Sister
by Janice Hadlow
It is a sad fact of life that if a young woman is unlucky enough to come into the world without expectations, she had better do all she can to ensure she is born beautiful. To be handsome and poor is misfortune enough; but to be both plain and penniless is a hard fate indeed.
In Jane Austen's Pride and Prejudice, Mary is the middle of the five Bennet girls and the plainest of them all, so what hope does she have? Prim and pious, with no redeeming features, she is unloved and seemingly unlovable.
The Other Bennet Sister, though, shows another side to Mary. An introvert in a family of extroverts; a constant disappointment to her mother who values beauty above all else; fearful of her father's sharp tongue; with little in common with her siblings – is it any wonder she turns to books for both company and guidance? And, if she finds her life lonely or lacking, that she determines to try harder at the one thing she can be: right.
One by one, her sisters marry – Jane and Lizzy for love; Lydia for some semblance of respectability – but Mary, it seems, is destined to remain single and live out her life at Longbourn, at least until her father dies and the house is bequeathed to the reviled Mr Collins.
But when that fateful day finally comes, she slowly discovers that perhaps there is hope for her, after all.
Emma
by Jane Austen
Jane Austen's Emma (1815) explores the life of women in Regency England, combining romance with some aspects of the comedy of manners.
Beautiful, clever, rich and single, Emma Woodhouse is perfectly content with her life and sees no need for either love or marriage. Nothing, however, delights her more than interfering in the romantic lives of others. But when she ignores the warnings of her good friend Mr. Knightley and attempts to arrange a suitable match for her protegee Harriet Smith, her carefully laid plans soon unravel and have consequences that she never expected. With its imperfect but charming heroine and its witty and subtle exploration of relationships, Emma is often seen as Jane Austen's most flawless work.
The Miser of Mayfair
by M.C. Beaton
Read by Penelope Rawlins Listen on BorrowBox
The first book in the Regency Romance series The House for a Season, from the bestselling author M.C. Beaton.
Is No.67 Clarges Steet the unluckiest house in Mayfair?
Every Season the beaux mondes of the Regency would hire a house in the heart of London's fashionable West End at disproportionately high rent for often inferior accommodation and yet No.67 Clarges Street, a town house complete with staff, remains vacant from year to year. Could it be that it is associated with ill luck and even death? Something must be done so that the servants of this house don't lose their livelihood ...
Salvation seems to come in the form of Roderick Sinclair who confirms he wishes to rent the house for the current season. The staff are overjoyed – until they find that Mr Sinclair is a terrible miser who is planning no parties. Furthermore, his ward, Fiona, though a dazzling Highland beauty, does not seem to possess one bright idea in her head. But it is Rainbird, No.67's clever and elegant butler, who sees through her façade and resolves to help his mysterious mistress in whatever way he can ...
The Taming of Annabelle
by M.C. Beaton
Read by Claire Morgan Listen on BorrowBox
Miss Annabelle Armitage was pea-green with envy...
What a cruel world it was when Annabelle's spinster of an older sister could enchant the dashing Lord Sylvester Comfrey! Annabelle's own passionate nature was surely better suited for such a one as Sylvester.
Alas for Annabelle, Comfrey seemed to care for her not a jot. Determined to get a bit of her own back, even if it meant marrying another, Annabelle found Peter, Marquess of Brabington, a most attentive admirer - who ends up having to fight for her love.
Contracted as His Countess by Louise Allen
Cloistered away in a castle since birth, Madelyn Aylmer must now fulfil her eccentric father's dying request: wed nobleman Jack Ransome! She has what Jack needs – land – and so he accepts their marriage of convenience, and vows to introduce this sheltered innocent into Society. But what Madelyn hadn't expected was the way her body reacts to Jack, especially to his promise of a union filled with unbridled passion!
Mistress of Marymoor
by Anna Jacobs
Will new love conquer old grudges?
Since her father died, Deborah Jannvier has been living under the provision of her callous uncle. So when a handsome stranger named Matthew Pascoe appears bearing a summons from a long-lost wealthy relative, Deborah agrees to return to Marymoor House with Matthew. On arrival, Deborah is told she shall inherit the estate on one condition: that she immediately marry Matthew. With no hope of a future otherwise, Deborah consents and soon after becomes owner of the estate when her benefactor dies.
Despite the unconventional circumstances of their marriage, Deborah and Matthew are surprised at the degree of affection that develops between them. But trouble soon befalls the couple in the form of Anthony Elkin, who claims that the Marymoor estate rightly belongs to him. The marriage of Deborah and Matthew secures their ownership, but they don't anticipate just how far Elkin will go to see the pair parted.
Can Deborah and Matthew outwit Elkin and find happiness against all odds?
Mills and Boon Historical Collection
Mills and Boon are the experts in romance and they have a whole series dedicated to Historical Romance. These books promise "uplifting romance that guarantee instant escape".  And we could all do with a bit of that!  The Historical series promises to "Indulge your fantasies of delicious Regency Rakes, fierce Viking warriors and rugged Highlanders."

The Jane Austen Rules: A Classic Guide to Modern Love by Sinéad Murphy
Feminist philosopher Sinead Murphy was appalled to discover the advice given by the million-copy selling dating book 'The Rules', which teaches women about 'capturing the heart of Mr Right'. Instead, she suggests that the novels of Jane Austen, with their precise and eloquent prose, are the best antidote to 'The Rules', and can offer much better advice to modern women today. Ranging from 'Pride and Prejudice' (1813) to 'Mansfield Park' (1814), Murphy has written a dating guide like no other, delivering clear-eyed wisdom that is witty and true.
George IV: King in Waiting by Stella Tillyard
George IV spent most of his life waiting to become king: as a pleasure-loving and rebellious Prince of Wales during the sixty-year reign of his father, George III, and for ten years as Prince Regent, when his father went mad.

'The days are very long when you have nothing to do' he once wrote plaintively, but he did his best to fill them with pleasure - women, art, food, wine, fashion, architecture. He presided over the creation of the Regency style, which came to epitomise the era, and he was, with Charles I, the most artistically literate of all our kings. Yet despite his life of luxury and indulgence, George died alone and unmourned.

Stella Tillyard has written a very human and enjoyable book about this most colourful of all British kings.