The Wild Magic Trilogy by Celine Kiernan
This fantasy adventure trilogy about witches and forbidden magic is from a beloved and award-winning Irish writer.
"[…] it is filled to the brim with drama and danger, true, heartwarming and heart-stopping, and magical...so very magical. Just read it."  —  Fallen Star Stories
"Ireland's answer to JK Rowling."  —  'Sunday Independent'
Book 1: Begone the Raggedy Witches

 On the night that Aunty dies the Raggedy Witches come for Mup's mam. Pale, cold, relentless, they will do anything to coax Mam back to Witches' Borough, a suppressed magical realm. When they kidnap Mup's dad, Mup and her mam must leave the mundane world to rescue him. But Mam is strange on this side of the border – striding, powerful, and distant. Even if they can save Dad, Mup is not sure anything will ever be the same again…

"[…] expect rhyming crows, talking cats and outlawed magic in Kiernan's first middle-grade fantasy adventure." The Bookseller

 
Book 2: The Little Grey Girl
In the second book in The Wild Magic Trilogy, the queen and her raggedy witches have fled, but the kingdom is not yet healed. The castle is haunted by memories of its brutal past. The ghosts are angry, and one of them in particular possesses a magic which may be too much for even Mup and Mam to handle.
Book 3: The Promise Witch
In the third book in The Wild Magic Trilogy, Witches Borough is dying, and no one knows how to save it. Into this scorched landscape, storms a raggedy witch named Magda, trailing ashes in her wake. She wants Mup. She wants Mup to fulfil a promise. And woe betide any who stand in her way.
Read on BorrowBox or Reserve on Encore
Under Platform 13 at King's Cross Station there is a secret door that leads to a magical island . . .

It appears only once every nine years. And when it opens, four mysterious figures step into the streets of London. A wizard, an ogre, a fey and a young hag have come to find the prince of their kingdom, stolen as a baby nine years before.

But the prince has become a horrible rich boy called Raymond Trottle, who doesn't understand magic and is determined not to be rescued.

The Secret of Platform 13 is an exciting magical adventure from Eva Ibbotson, the award-winning author of Journey to the River Sea, in a special edition illustrated by Beatriz Castro.
The Worldquake Sequence by Scarlett Thomas
Worldquake is hailed by critic as the most exciting series since Harry Potter.  And a it features magical books this librarians is more than delighted to recommend it. When you've read the books you can explore the Worldquake website.  Its also got some teachers resources so you might even persuade your class to read it with you.
Lively, inventive, phrase-making fantasy . . . revels in evocative spells, names and descriptions of quaint shops, fabulous food and delicious interiors . . . has something of J.K. Rowling's capacity to delight  —  Sunday Times

Book 1: Dragon's Green 
Read on BorrowBox  Listen on BorrowBox
Effie Truelove is a new pupil at the Tusitala School for the Gifted, Troubled and Strange, with its twisted grey spires and an English teacher so frightening she gives the class nightmares.

When her beloved grandfather is brutally attacked, Effie promises to look after his magical books. But then shady book-collector Leonard Levar gets his hands on them and Effie has to embark on the most dangerous adventure of her life . . .

Effie must travel to the mysterious Otherworld, unlock the hidden meaning of an old book called Dragon's Green, and brave the terrifying Diberi, a secret organisation with plans that could destroy the entire universe.

But Effie can't face the Diberi alone. Can her new school-friends Maximilian, Wolf, Lexy and Raven combine their gifts and discover their true powers in time?
 Book 2: The Chosen Ones 
THERE IS MAGIC BEYOND THE REALWORLD . . .
Ellie Truelove has learned to travel through magical books to the Otherworld.
Maximilian Underwood, Effie's classmate, is more interested in the dark and forbidden Underworld.

When Effie and Maximilian both mysteriously vanish, their friends Raven, Lexy and Wolf don't know where to turn for help. Raven is a witch and her horse, Echo, has revealed that Effie is in deep danger and time is running out.

To make things worse, Raven's mother, the author Laurel Wilde, is caught up in a plot with the ruthless billionaire Albion Freake, who will stop at nothing to become invincible . . .

Where are Effie and Maximilian? Are their disappearances connected?
And can Albion Freake's deadly plan be stopped?
Book 3: Galloglass
Effie Truelove and her school-friends Lexy, Wolf, Maximilian and Raven must use their magical skills to defeat the Diberi, a corrupt organisation intent on destroying the worlds at Midwinter.

But during a visit to the Otherworld, Effie is mistaken and imprisoned for being a galloglass - a dangerous, selfish islander. Meanwhile, Lexy is threatened by the vile professor Jupiter Peacock and Wolf embarks on a perilous journey to find his missing sister.

And back at school, Neptune the cat is bored. He's used to lording it over the other stray cats, but they've all mysteriously vanished. Where could they be - and how will he find them?

Can Effie and her friends reunite before total destruction is wreaked upon the universe?
The Train to Impossible Places by 

P.G. Bell
Read on BorrowBox or Reserve on Encore
Join the journey to Impossible Places, where there's magic at every stop…

Suzy is surprised to find a grumpy troll building a railway through her house – especially when a gigantic steam train crashes into her hallway! This is the Impossible Postal Express, the trusty delivery service of the Union of Impossible Places, and Suzy becomes its newest recruit. And with her cursed first package, an Impossible adventure begins.

Welcome to the Impossible Places… Where there's fuzzics not physics, where adventure meets magic and where the journey will never, ever take you where you expect it to.
The Great Brain Robbery by P.G. Bell
 A Train to Impossible Places Adventure 
Suzy can't wait to return to the Union of Impossible Places on the Impossible Postal Express. But when she arrives, she overhears a dastardly plan to destroy Trollville from a shadowy and unexpected villain. Suzy and her friends must race from magical cloud-worlds to secret caverns to catch the culprit, before Trollville comes crashing down…
The Truth About Verity Sparks by 

Susan Green
Reviews:
"A lively and funny melodrama, full of twists and turns, suitably evil villains, confusions and misunderstandings. Verity is a delightfully self-reliant character … An entertaining read." Magpies magazine
"This series has a fantastic leading character and a splendid supporting cast. The storylines are riveting and fast-paced, intelligent and extremely absorbing." Buzz Words Books
"This is another exciting novel by Susan Green; Verity Sparks is a dynamic character with a real sense of adventure. Highly recommended." ReadPlus
"A fantastic new detective adventure story from Australian author Susan Green. Verity Sparks is a likable and charismatic character who young boys and girls with a taste for history and adventure will love to read about." Cereal Readers
An entertaining adventure mystery rich with historical curiosities. Recommended for middle-primary readers.  —  Aussie Reviews

The Truth about Verity Sparks 
London, 1878. Thirteen-year-old Verity Sparks has an extraordinary talent: she can find lost things just by thinking about them. When she joins the Confidential Inquiry Agency as a detective, she discovers there is a secret lurking in her own past and that unknown forces are working against her. Verity and her friends are soon in great danger. Who doesn't want them to learn the truth about Verity Sparks?
Verity Sparks, Lost and Found 

Melbourne, 1879. Verity Sparks has found her father, but lost her psychic power – the ability to find things.
Papa Savinov, eager for Verity to become a proper lady, sends her to an exclusive boarding school. But Verity is more interested in solving the mystery of the missing Ecclethorpe heiress. As the investigation deepens, danger and intrigue grow closer. Will Verity's gift return before it's too late?
Verity Sparks and the Scarlet Hand
Castlemaine, 1880. Verity Sparks is on holiday with her friends, but the fun soon comes to an end when someone is kidnapped. Verity tries to investigate, but her psychic gift creates more mysteries than it solves. Why was a red glove left at the crime scene? And who is the ghostly woman following her? Can Verity use her courage and skills to solve the crime before it's too late?
Witch Wars by 

Sibeal Pounder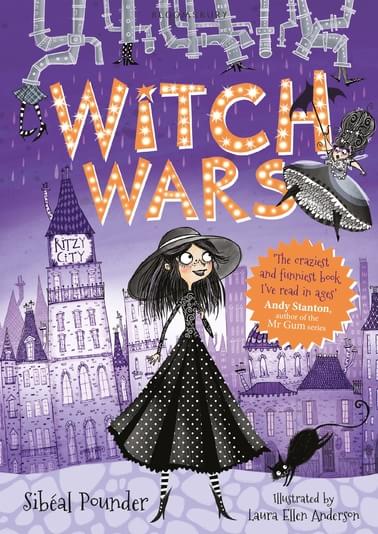 The first in a series of books about Tiga, this is one for the younger Harry Potter fans.
Join Tiga on her quest to win Witch Wars and become Top Witch of Ritzy City. The first in a hilarious illustrated series and perfect for fans of The Worst Witch.
When Fran the Fabulous Fairy turns up in Tiga Whicabim's shed to tell her she's a witch, Tiga doesn't believe her. Or at least not until Fran points out that TIGA WHICABIM is actually an anagram of I AM A BIG WITCH and magics her away down the drainpipes to compete in Witch Wars - the competition to crown the next Top Witch of Ritzy City.
Filled with silly spells, delectable dresses, ridiculous riddles and a serious shoe problem, Witch Wars is a witch story like no other. Although if you enjoyed The Worst Witch, you'll love this too!
If you like this one then check out the other Witch Wars Adventure titles available on BorrowBox
Children of the Red King Series featuring Charlie Bone by Jenny Nimmo
'A fast moving, dialogue-driven romp with plenty of cliff-hangers for those first hooked into reading by Harry Potter.'  —  The Bookseller
Book 1:  Midnight for Charlie Bone Read by Simon Russell Beale
An academy for magic and special talents. A destiny unfulfilled. A secret legacy.

Since his father died, Charlie Bone has lived with his mother and her mother in the house of his other grandmother, Grandma Bone. Looking at a picture of a couple with a baby and a cat, he suddenly discovers he can hear their voices.

Although he tries to hide his new gift, Grandma Bone and her scary sisters soon find out and send him to Bloor's Academy. Charlie quickly finds life at Bloor's pretty tough, with its strict rules and the malevolent head boy, Manfred, set against him.

When Charlie discovers that the child in the photograph is being held, hypnotised, against her will, he and his new friends with 'gifts' try to awaken her. But can they overcome Manfred's sinister hypnotic gifts?
The Mysterious Benedict Society Series by Trenton Lee Stewart
Already made into a TV series to be aired on Disney+ later in 2021, this is New York Times bestselling series for readers aged 9+.
Are you a gifted child looking for special opportunities?"

When this peculiar ad appears in the newspaper, dozens of children enroll to take a series of mysterious, mind-bending tests. But in the end just four very special children will succeed. Their challenge: to go on a secret mission that only the most intelligent and resourceful children could complete. To accomplish it they will have to go undercover at the Learning Institute for the Very Enlightened, where the only rule is that there are no rules.

As our heroes face physical and mental trials beyond their wildest imaginations, they have no choice but to turn to each other for support. But with their newfound friendship at stake, will they be able to pass the most important test of all? 

Welcome to the Mysterious Benedict Society.
Book 1: The Mysterious Benedict Society
Book 2: The Mysterious Benedict Society and the Perilous Journey

It should have been a celebration party, but now it's another mind-bending mission for Reynie, Kate, Sticky and Constance. Join them as they race across the globe by train, ship and bicycle to save their beloved Mr Benedict!
Book 3: The Mysterious Benedict Society and the Prisoner's Dilemma
Reynie, Kate, Sticky and Constance are back - but so is Mr Curtain, with another devious scheme! Can the Mysterious Benedict Society thwart Mr Curtain's plans, even whilst held prisoner? Join them on their adventure as they face all sorts of dilemmas, in a bid to save Stonetown. The third book in the New York Times bestselling series
Prequel to the Series: The Extraordinary Education of Nicholas Benedict
When nine-year-old Nicholas Benedict is sent to a new orphanage, he encounters vicious bullies, selfish adults, strange circumstances - and a mind-bending mystery. Luckily, he has one very important thing in his favour: he's a genius.
The Magic Misfits by 

Neil Patrick Harris
When street magician Carter runs away, he never expects to find friends and magic in a sleepy New England town. But like any good trick, things change instantly as greedy B.B. Bosso and his crew of crooked carnies arrive to steal anything and everything they can get their sticky fingers on.

After a fateful encounter with the local purveyor of illusion, Dante Vernon, Carter teams up with five other like-minded illusionists. Together, using both teamwork and magic, they'll set out to save the town of Mineral Wells from Bosso's villainous clutches. These six Magic Misfits will soon discover adventure, friendship, and their own self-worth in this delightful series.
'I adored The Magic Misfits. This man is far too talented for my liking, and needs to be stopped!'  —  David Walliams
Book 1 : The Magic Misfits (

Read by Neil Patrick Harris)
Do you believe in magic? Carter doesn't. He knows magic tricks are just that – tricks. And as a street magician he's also pretty good at them. But then Carter runs away from his conman uncle and he finds himself alone and in danger from dastardly carnival ringleader, B.B. Bosso. He could really use some magic now ...

A chance encounter with the mysterious Mr Dante Vernon leads Carter to a magic shop, where he teams up with five other like-minded kids and the MAGIC MISFITS are born! Can the gang use their magical talents to save the day and stop B.B. stealing a priceless diamond?
'A rollicking ride of a magical tale that's wholesomely suspenseful, values friendship, and applauds courage.'  —  School Library Journal
Book 2: The Magic Misfits: The Second Story (Read by Christina Hendricks and Neil Patrick Harris)

Growing up in an orphanage, Leila was bullied for being different. But she turned her hardship into skill by becoming an escape artist – a valuable trait when belonging to a group of magical best friends. When a famous psychic comes to town, however, Leila and her pals won't be able to escape the big mystery heading their way. Whether chasing mad monkeys or banishing ghosts from haunted hotels, these six friends will do their best to keep Mineral Wells safe – but can they still protect themselves in the process?
Book 3: The Magic Misfits: The Minor Third (Read by Neil Patrick Harris and Tre Hall)

Armed with a violin bow, raw musical talent and budding levitation skills, Theo Stein-Meyer is one dashing Magic Misfit. But when a new girl arrives in town, she seems to understand him better than his closest friends.

Meanwhile, a creepy ventriloquist and his dummy are spooking the Magic Misfits. Is he a member of the villainous Emerald Ring? And will Theo decide where his allegiance lies in time to save everyone?

Book 4: The Magic Misfits: The Fourth Suit 

Ridley Larsen is everything you want in a friend. She's tough as nails, fiercely loyal and smart as a whip. But deep inside, she often doubts herself. (Everyone does! I think … I do. Do you?)

Now is no time for uncertainty, though, as Ridley and the rest of the Magic Misfits must confront the hypnotised townspeople, navigate an inattentive mother and come face-to-face with a villain they never thought they'd see again. Can Ridley conquer her doubts, master her temper and put her extraordinary skills to good use? She'll do anything to protect her friends and with the vicious magician Kalagan ready to finally reveal himself, the Misfits need each other now more than ever …

One last time, join the Magic Misfits in this thrilling and action-packed finale that's full of adventure, friendship and more than a few hidden secrets. Whether you're a longtime expert at illusion or a new fan of stage magic, hold on to your top hat – the Magic Misfits have a few more tricks up their sleeves!
The Invention of Hugo Cabret by Brian Selznick (

Read by Jeff Woodman)
Listen on BorrowBox
Orphan, clock keeper, and thief, Hugo lives in the walls of a busy Paris train station, where his survival depends on secrets and anonymity. But then his world suddenly interlocks with an eccentric, bookish girl and a bitter old man who runs a toy booth in the station.

A cryptic drawing, a treasured notebook, a stolen key, a mechanical man, and a hidden message from Hugo's dead father form the backbone of this intricate, tender, and spellbinding mystery.
Keeper of the Lost Cities Series by Shannon Messenger
Twelve-year-old Sophie Foster has a secret. She is a Telepath, and has the unique ability to hear the thoughts of everyone around her – something that she's never known how to explain, and has made her an outcast, even in her own family.

But everything changes the day she meets Fitz, a mysterious boy who appears out of nowhere and also reads minds. She discovers there's somewhere she does belong, and staying where she is will put her in grave danger. In the blink of an eye, Sophie is forced to leave behind everything and start a new life in a world that is vastly different to her own.

Sophie has new rules and skills to learn, and not everyone is thrilled with her "homecoming". There are secrets buried deep in Sophie's memory, secrets that other people desperately want.

Would even kill for . . .
Bad Magic by Pseudonymous Bosch
This book is incredibly BAD. It does not contain MAGIC. Or a strange ghost girl. Or spontaneous combustion. Or Spanish-speaking llamas.

It's just an ordinary tale of a boy going to summer camp on a desert island. Nothing EXCITING or WEIRD happens and there are no SECRETS or MYSTERIES at all.
(Or maybe there are. You'd better read it to find out.)
A Pinch of Magic series by Michelle Harrison
The Widdershins sisters, Betty, Fliss and Charlie are trapped, prevented from leaving their home on Crowstone by an ancient family curse.  When they inherit three magical objects with the power to change their fate, adventure beckons. 
Book 1: A Pinch of Magic

Read on BorrowBox or Listen on BorrowBox

Three magical objects with the power to change their fate.

Will they be enough to break the curse?

Or will they lead the sisters even deeper into danger? ...

 
Book 2: A Sprinkle of Sorcery
A missing sister, a secret island and ... a sprinkle of sorcery.

The family curse has been lifted and the Widdershins sisters: Betty, Fliss and Charlie are free to leave the misty prison isle of Crowstone. But when a mysterious girl arrives at the Poacher's Pocket with a pocketful of hagstones and accompanied by a will-o'-the-wisp, it seems another adventure has landed on their doorstep. And when Charlie goes missing, it's up to Betty and Fliss to journey through misty marches, past wisp catchers and on to a secret island that doesn't exist on any map…
You could also try searching the Who Next guide to find more books like Harry Potter.  Log in with your library card number and pick Meath County Libraries from the list.  Then you can search for Harry Potter or JK Rowling to find suggestions for more books to read.