Books to TV
As Normal People draws to an end we've compiled a list of other book that have been adapted for TV; some to look forward to later in the year, and some that have already been aired.  You might be surprised to find some names on the list.
Little Fires Everywhere by Celeste Ng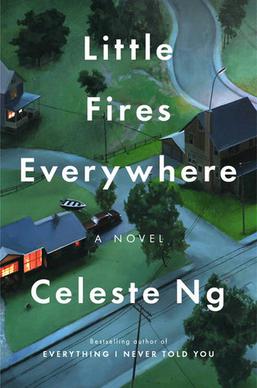 This offering by the bestselling author has been adapted for an 8 part mini series and is available on Amazon Prime.  The novel was published in 2017 and is based in Shaker Heights, where the author grew up.  The TV series stars Reese Witherspoon, who also produced the show, and Kerry Washington. The story centres around 2 very different women whose families become entangled.  They also end up on opposing sides of a dramatic custody battle that divides the whole town.  And the outcome of events are devastating for nearly all involved.  It's a good read, albeit with a slightly disappointing ending.  But rumour has it that the ending in the TV series is not quite the same as the book.  Worth a watch to find out....
This is Going to Hurt by Adam Kay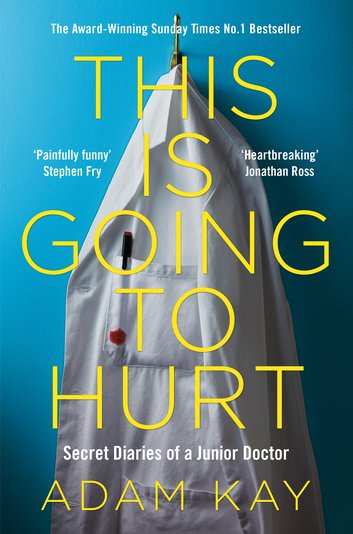 Adam Kay is adapting his bestselling book in to an eight part comedy drama for BBC2.  There's no release date  set yet but it's sure to be "one to watch!!"  The book chronicles the highs and lows of life as a junior doctor and manages to be both funny and moving at the same time. 
For those of you who have to read the book first head on over to BorrowBox and reserve your copy now.  
Read on BorrowBox or Listen on BorrowBox
Codename Villanelle by Luke Jennings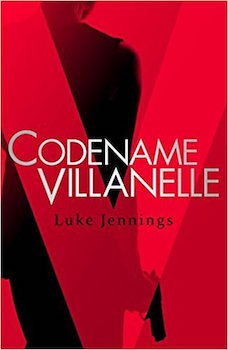 TV Series : Killing Eve
This novel was originally published as 4 kindle ebook novellas.  It was compiled and published in 2018 as Codename Villanelle and is the basis of the TV series Killing Eve starring Sandra Oh and Jodie Comer.  Jennings since wrote 2 sequels: Killing Eve: No Tomorrow (2019) and Killing Eve: Die for Me (jJune, 2020).  Villanelle is trained as an assassin and rewarded handsomely by "The Twelve" who rescued her from prison following her vengeful murder of her grandfather's killers. She comes to the attention of Eve Polastri, an MI5 agent who hunts her. But stopping a ruthless assassin becomes more than a job for the agent. It becomes personal. 
The TV series is currently in its third series on RTE.
The Luminaries by Eleanor Catton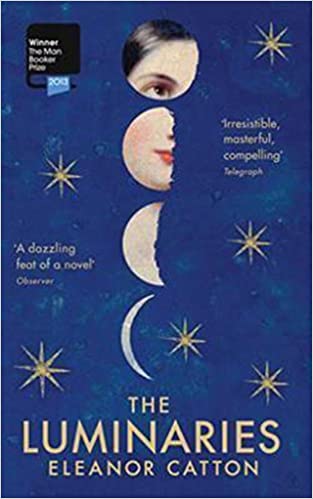 This Booker Prize winning novel is being adapted by the author herself for a 6 part series for BBC1.  There's no release date yet but that gives you time to read the book first.  According to the Radio Times, the series is much changed from the book and has a female central character, played by Eve Hewson and other stars include Himesh Patel (Tamwar Masood, Eastenders) and Eva Green (Casino Royal).
The book follows Walter Moody who has come to make his fortune in the New Zealand goldfields. However, he comes upon a group of local men, who have met in secret to discuss a series of unsolved crimes: a rich man has disappeared, a whore has tried to kill herself, and a vast fortune has been discovered in the home of a drunk. Moody is soon drawn into the mystery: "a network of fates and fortunes that is as complex and exquisitely patterned as the night sky."
The Secrets She Keeps by Michael Robotham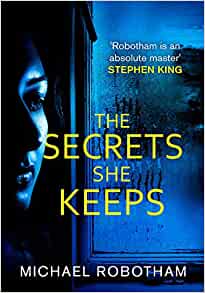 This psychological thriller by Australian author, Michael Robotham, will start on RTE on the 9th of June 2020.  It's about two women from vastly different backgrounds have one thing in common - a dangerous secret that could destroy everything they hold dear. Both will risk everything to hide the truth, but their worlds are about to collide in a shocking act that cannot be undone.
Cormoran Strike Series by Robert Galbraith
TV Series: Strike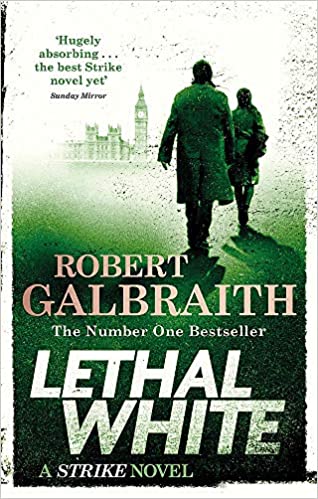 By now everybody knows that Robert Galbraith is J.K. Rowling.  Her Cormoran Strike series has been a hit with readers and the first 3 novels, The Cuckoo's Calling, The Silkworm and Career of Evil have been adapted for the screen by the BBC.  Her fourth novel, Lethal White, will provide the plot for the next series for TV and it's due to be screened in 2020.
Library readers who have borrowed the Strike books all come back asking for the next in the series so if you like crime fiction definitely give this series a try.  Critics have hailed the series as "unputdownable" (Daily Telegraph), and crime writer Mark Billingham called Strike "One of the most unique and compelling detectives I've come across in years".
Us by David Nicholls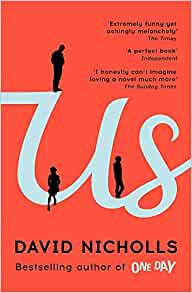 This book was one of the titles in our Library Book Club collection and is a great read.  It's witty and full of great characters and insights about relationships.  It follows the trials and tribulations of the Petersen family as they go on a European tour before the only son leaves home for college.  Much to Doug's chagrin, his wife Connie declares that she thinks their marriage is over! Doug manages to convince her to go ahead with the planned family holiday hoping that he can rekindle his marriage. The hotels are booked, the tickets bought, the itinerary planned and printed. What could possibly go wrong?
The book has been adapted by the author for the BBC.  It will be a four part drama and should translate really well to the screen. No air date has been announced - hopefully it will hit our screens soon.
A Suitable Boy by Vikram Seth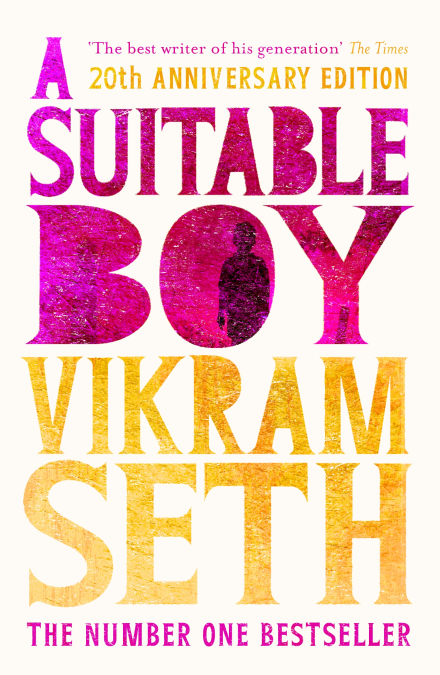 This novel was first published in 1993 and won the Best Book at the Commonwealth Book Prize.  It tells the tale of Lata who is searching for a suitable husband.  In doing so it explores the worlds of 4 extended families drawing the reader in to an engaging story of their lives and loves.  Set against the background of 1950's India, a newly independent nation facing it's first general election and a changing society, it is a rich story.
The screen adaptation for the BBC will be directed by Mira Nair whose production company specialises in films for international audiences on Indian society.  It promises to be one to look forward to.  No date has been set for the first episode yet so plenty of time to get stuck in to the book first.  A word of warning though - it's a tome!
The Outsider by Stephen King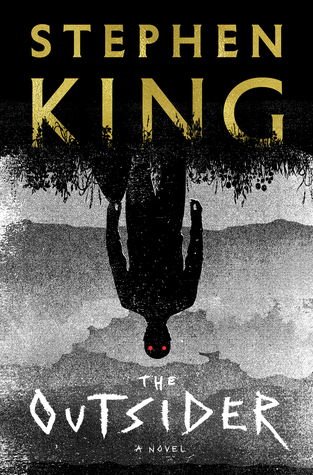 The 2018 novel by King is a shocking tale that opens with the discovery of the raped body of an eleven-year-old boy in a town park. Forensic evidence leads to the arrest of popular teacher and Little League coach Terry Maitland. Maitland has an alibi, but investigating officer Anderson and the district attorney have DNA evidence, fingerprints and witnesses to back up their case. As the investigation proceeds shocking facts emerge and the reader is kept guessing as to whether Maitland is the nice guy he appears to be or if he's the perpetrator of such an awful crime.
The TV series started showing on Sky Atlantic in January 2020.
Apple Tree Yard by Louise Doughty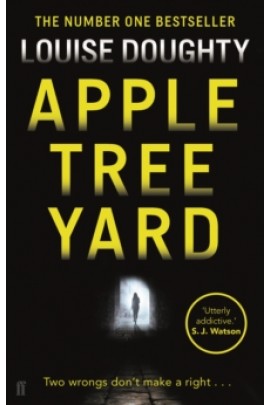 This series was shown on BBC a couple of years ago following the success of the novel, which was shortlisted for the CWA Steel Dagger for Best Thriller and the Specsavers National Book Awards Crime & Thriller of the Year in 2017.
Yvonne Carmichael has a high-flying career, a beautiful home and a good marriage.
But when she meets a stranger she is drawn into a passionate affair.
Keeping the two halves of her life separate seems easy at first.
But she can't control what happens next.
In the Woods by Tana French
TV Series: The Dublin Murders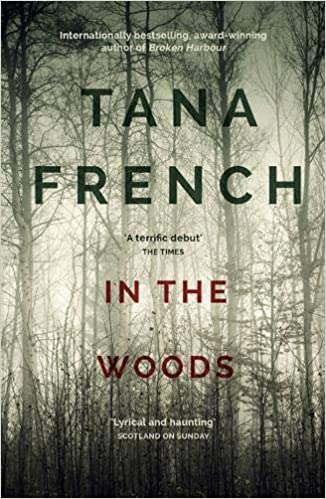 This series screened on RTE and BBC earlier this year and was a gripping, gritty tale starring Killian Scott.  It was based on the first 2 Dublin Murder Squad novels by Tana French: In the Woods and The Likeness.  The novels feature detective Rob Ryan, a troubled homicide detective who is partnered with his best friend Cassie Maddox.  Unknown to their superiors, the pair uncover a possible link between their current murder case and the disappearance of 2 children 20 years ago. Rob was in the woods with the children the day they disappeared but can't remember anything about the event.  He and Cassie keep this information hidden while they determine a connection.  The first novel, while being a little bit drawn out, has plenty of twists and turns which should keep you guessing.
The Pale Horse by Agatha Christie
Many of Agatha Christie's novels have appeared on both big and little screens and the latest adaptation showed on BBC earlier this year. If you enjoy a proper "whodunnit" then you could do worse than this offering from the legendary mystery writer.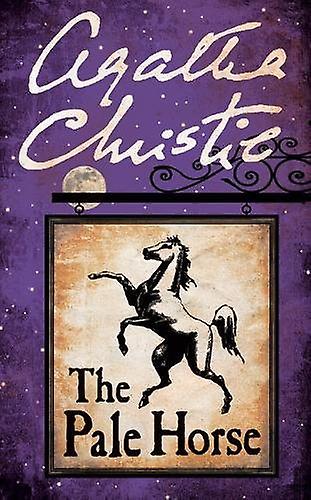 The Plot of the Novel
A priest's death leads to sinister goings-on in an old country pub…
To understand the strange goings on at The Pale Horse Inn, Mark Easterbrook knew he had to begin at the beginning. But where exactly was the beginning? Was it the savage blow to the back of Father Gorman's head? Or was it when the priest's assailant searched him so roughly he tore the clergyman's cassock? Or could it have been the priest's visit, just minutes before, to a woman on her death bed? Or was there a deeper significance to the violent squabble which Mark Easterbrook had himself witnessed earlier?
Wherever the beginning lies, Mark and his sidekick, Ginger Corrigan, may soon have cause to wish they'd never found it…
The Stranger by Harlan Coben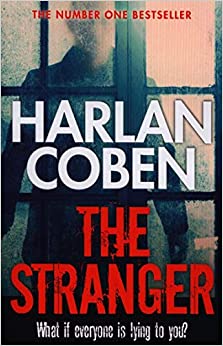 Netflix have plans to adapt 14 of Coben's novels in to miniseries or films and this is one of the first such adaptations.  It came out in January but you can still watch the 6 episodes.   
Novel synopsis: The Stranger appears out of nowhere, perhaps in a bar, or a parking lot, or at the grocery store. His identity is unknown. His motives are unclear. His information is undeniable. Then he whispers a few words in your ear and disappears, leaving you picking up the pieces of your shattered world.
Adam Price has a lot to lose: a comfortable marriage to a beautiful woman, two wonderful sons, and all the trappings of the American Dream: a big house, a good job, a seemingly perfect life.
Then he runs into the Stranger. When he learns a devastating secret about his wife, Corrine, he confronts her, and the mirage of perfection disappears as if it never existed at all. Soon Adam finds himself tangled in something far darker than even Corrine's deception, and realizes that if he doesn't make exactly the right moves, the conspiracy he's stumbled into will not only ruin lives - it will end them...
Nine Perfect Strangers by Liane Moriarty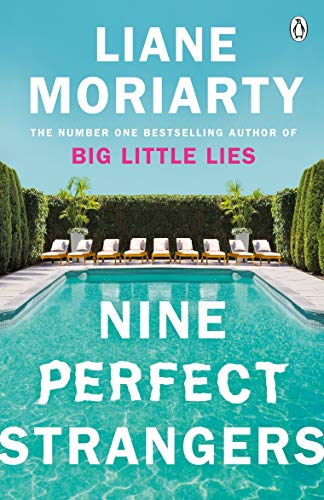 Liane Moriarty's latests novel will screen later on this year and it's produced by HBO, the same company responsible for the adaptation of her hit novel Big Little Lies.  Nine Perfect Strangers will star Nicole Kidman and Melissa McCarthy and is set in a wellness retreat.
Plot: Nine perfect strangers, each hiding an imperfect life. A luxury retreat cut off from the outside world. Ten days that promise to change your life. 
But some promises - like some lives - are perfect lies . . . 
Nine Perfect Strangers is a gripping, funny and thrilling bestseller and you should read it now before the series hits our screens.
My Brilliant Friend by Elena Ferrante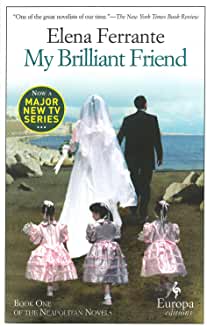 The Neapolitan Series of novels by Ferrante was serialised on TV last year.  It tells the story of the friendship between Elena and Lila. And it also tells the tale of the neighbourhood, the city and the country where they lived. 
The first series is available on Sky Atlantic On Demand  and series 2 starts on Friday, 19th of June.
And if you like this work by Elena Ferrante you might want to watch out for her soon to be published (September 2020) The Lying Life of Adults which has been signed by Netflix for a serialisation in the near future.
Other TV Series Based on Books
The Durrells  (Netflix) based on the autobiographical books by Gerald Durrell (My Family and Other Animals)
Pretty Little Liars : Based on the book series of the same name by Sara Shepard
Bones is a long running series starring Emily Deschanel and David Boreanaz based on the Temperance Brennan novels by Kathy Reichs 
13 Reasons Why : Based on the book of the same name by Jay Asher
Jack Taylor : Based on Ken Bruen's series of novels set in Galway and featuring detective Jack Taylor . The Guards, The Killing of the Tinkers, The Magdalen Martyrs.
Orange is the new Black: Based on the biographical book Orange is the New Black: My Year in a Women's Prison by Piper Kerman
Gossip Girl: Based on the book series by Cecily Von Ziegesar
Outlander: Based on the books by Diana Gabaldon
Boardwalk Empire: Based on Boardwalk Empire: The Birth, High Times, and Corruption of Atlantic City by Nelson Johnson
Dexter: Based on Darkly Dreaming Dexter by Jeff Lindsay
House of Cards: Based on the book of the same name by Michael Dobbs
The Handmaid's Tale: Based on the book by Margaret Atwood.
Poldark: Based on the book by Winston Graham
Call the Midwife : Based on The Midwife: A Memoir of Birth, Joy, and Hard Times by Jennifer Worth
Dark Places: Based on the book by Gillian Flynn
Sharp Objects: Based on the book by Gillian Flynn