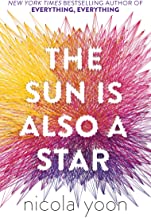 Natasha:
I'm a girl who believes in science and facts. Not fate. Not destiny. Or dreams that will never come true. I'm definitely not the kind of girl who meets a cute boy on a crowded New York City street and falls in love with him. Not when my family is twelve hours away from being deported to Jamaica. Falling in love with him won't be my story.
Daniel:
I've always been the good son, the good student, living up to my parents' high expectations. Never the poet. Or the dreamer. But when I see her, I forget about all that. Something about Natasha makes me think that fate has something much more extraordinary in store―for both of us.
The Universe:
Every moment in our lives has brought us to this single moment. A million futures lie before us. Which one will come true?
Get Dirty by Gretchen McNeil
The members of Don't Get Mad aren't just mad anymore . . . they're afraid. And with Margot in a coma and Bree under house arrest, it's up to Olivia and Kitty to try to catch their deadly tormentor. But just as the girls are about to go on the offensive, Ed the Head reveals a shocking secret that turns all their theories upside down. The killer could be anyone, and this time he—or she—is out for more than just revenge. The girls desperately try to discover the killer's identity as their own lives are falling apart: Donté is pulling away from Kitty and seems to be hiding a secret of his own, Bree is sequestered under the watchful eye of her mom's bodyguard, and Olivia's mother is on an emotional downward spiral. The killer is closing in, the threats are becoming more personal, and when the police refuse to listen, the girls have no choice but to confront their anonymous "friend" . . . or die trying.
For Malik, the Solstasia festival is a chance to escape his war-stricken home and start a new life with his sisters in the prosperous desert city of Ziran. But when a vengeful spirit abducts his younger sister, Nadia, as payment to enter the city, Malik strikes a fatal deal—kill Karina, Crown Princess of Ziran, for Nadia's freedom. But Karina has deadly aspirations of her own. Her mother, the Sultana, has been assassinated; her court threatens mutiny; and Solstasia looms like a knife over her neck. Grief-stricken, Karina decides to resurrect her mother through ancient magic . . . requiring the beating heart of a king. And she knows just how to obtain one: by offering her hand in marriage to the victor of the Solstasia competition. When Malik rigs his way into the contest, they are set on a heart-pounding course to destroy each other. But as attraction flares between them and ancient evils stir, will they be able to see their tasks to the death?
Madeline Whittier is allergic to the outside world. So allergic, in fact, that she has never left the house in all of her 17 years. But when Olly moves in next door, and wants to talk to Maddie, tiny holes start to appear in the protective bubble her mother has built around her. Olly writes his IM address on a piece of paper, shows it at her window, and suddenly, a door opens. But does Maddie dare to step outside her comfort zone? Everything, Everything is about the thrill and heartbreak that happens when we break out of our shell to do crazy, sometimes death-defying things for love.
Told in alternating narratives that bridge centuries, this novel from New York Times bestselling author Samira Ahmed traces the lives of two young women fighting to write their own stories and escape the pressure of cultural expectations in worlds too long defined by men. It's August in Paris and 17-year-old Khayyam Maquet—American, French, Indian, Muslim—is at a crossroads. This holiday with her parents should be a dream trip for the budding art historian. But her maybe-ex-boyfriend is probably ghosting her, she might have just blown her chance at getting into her dream college, and now all she really wants is to be back home in Chicago figuring out her messy life instead of brooding in the City of Light. Two hundred years before Khayyam's summer of discontent, Leila is struggling to survive and keep her true love hidden from the Pasha who has "gifted" her with favored status in his harem. In the present day—and with the company of a descendant of Alexandre Dumas—Khayyam begins to connect allusions to an enigmatic 19th-century Muslim woman whose path may have intersected with Alexandre Dumas, Eugène Delacroix, and Lord Byron. Echoing across centuries, Leila and Khayyam's lives intertwine, and as one woman's long-forgotten life is uncovered, another's is transformed
It's been five years since her best friend died but Mia is still haunted by Holly's presence. In New York for the summer, Mia meets psychology student Rav and is at once intrigued and unsettled by his study of paranormal phenomena. Hoping it might help her work through her own experiences, Mia joins Rav's research trip to Halcyon House. But as the investigation unfolds, Mia is forced to confront the memories of Holly that she's tried so hard to bury ...
Burn by Patrick Ness
"On a cold Sunday evening in early 1957, Sarah Dewhurst waited with her father in the parking lot of the Chevron Gas Station for the dragon he'd hired to help on the farm." This dragon, Kazimir, has more to him than meets the eye. Sarah can't help but be curious about him, an animal who supposedly doesn't have a soul but is seemingly intent on keeping her safe from the brutal attentions of Deputy Sheriff Emmett Kelby. Kazimir knows something she doesn't. He has arrived at the farm because of a prophecy. A prophecy that involves a deadly assassin, a cult of dragon worshippers, two FBI agents – and somehow, Sarah Dewhurst herself. From the bestselling author of the Chaos Walking trilogy comes a heart-stopping story of fanaticism, hope, bravery and impossible second chances, set in a world on the very brink of its own destruction.
For seventeen-year-old Opal Hopper, code is magic. She builds entire worlds from scratch: Mars craters, shimmering lakes, any virtual experience her heart desires. But she can't code her dad back into her life. When he disappeared after her tenth birthday, leaving only a cryptic note, Opal tried desperately to find him. And when he never turned up, she enrolled at a boarding school for technical prodigies and tried to forget. Until now. Because WAVE, the world's biggest virtual reality platform, has announced a contest where the winner gets to meet its billionaire founder. The same billionaire who worked closely with Opal's dad. The one she always believed might know where he went. The one who maybe even murdered him. What begins as a small data hack to win the contest spirals out of control when Opal goes viral, digging her deeper into a hole of lies, hacks, and manipulation. How far will Opal go for the answers--or is it the attention--she's wanted for years?
The Twin

by Natasha Preston
After sixteen-year-old Ivy's twin sister, Iris, moves in with her and their father, Ivy learns that Iris is trying to push her out of her own life--and may be responsible for their mother's death.
"After their parents divorced, 10-year-old twins Ivy and Iris were split up--Ivy lived with Dad, Iris with Mom. Now, after a tragic accident takes their mom's life, the twins are reunited and Iris moves in with Ivy and their dad. Devastated over Mom's death, Iris spends the first few weeks in almost total silence--the only person she will speak to is Ivy. Iris feels her life is over and she doesn't know what to do. Ivy promises her twin that she can share her life now. After all, they're sisters. Twins. It's a promise that Iris takes seriously. And before long, Ivy's friends, her life at school, and her boyfriend, Tyler, fall under Iris's spell. Slowly, Ivy realizes she's being pushed out of her own life. But she's just being paranoid, right? And Mom's accident was . . . just an accident. Right? It's not like she--or Dad--or Tyler--are in any danger. . . ."--Amazon.
They killed my mother, they took our magic, they tries to bury us ... now we fight!
After battling the impossible, Zélie and Amari have finally succeeded in bringing magic back to the land of Orïsha. But the ritual was more powerful than they could've imagined, reigniting the powers of not only the maji, but of nobles with magic ancestry, too.  Now, Zélie struggles to unite the maji in an Orïsha where the enemy is just as powerful as they are. But with civil war looming on the horizon, Zélie finds herself at a breaking point: she must discover a way to bring the kingdom together or watch as Orïsha tears itself apart.
Mind games. Murder. Mayhem. How far would you go to survive the night?
Blackmail lures sixteen-year-old Ava to the derelict carnival on Portgrave Pier. She is one of ten teenagers, all with secrets they intend to protect whatever the cost. When fog and magic swallow the pier, the group find themselves cut off from the real world and from their morals.
As the teenagers turn on each other, Ava will have to face up to the secret that brought her to the pier and decide how far she's willing to go to survive.
For fans of Karen McManus' One of Us is Lying, Agatha Christie's And Then There Were None and films like I Know What You Did Last Summer.
Running. That's all Ghost (real name Castle Cranshaw) has ever known. But Ghost has been running for the wrong reasons -until he meets Coach, an ex-Olympic Medallist who sees something in Ghost: crazy natural talent. If Ghost can stay on track, literally and figuratively, he could be the best sprinter in the city. Can Ghost harness his raw talent for speed, or will his past finally catch up to him?
Imagine Me (Shatter Me , 6) by Tahereh Mafi
Juliette Ferrars. Ella Sommers. Which is the truth and which is the lie?
Now that Ella knows who Juliette is and what she was created for, things have only become more complicated. As she struggles to understand the past that haunts her and looks to a future more uncertain than ever, the lines between right and wrong – between Ella and Juliette – blur. And with old enemies looming, her destiny may not be her own to control.
The day of reckoning for the Reestablishment is coming. But will the choice of which side to fight on be hers?

Ten years ago, Jess's mother was murdered by the Magpie Man. She was the first of his victims, but not the last. Now Jess is the star of a YouTube reality series and she's using it to catch the killer once and for all. The whole world is watching her every move. And so is the Magpie Man.
One girl. Two boys. And the summer that changed everything . . .
Every year Isabel spends a perfect summer at her favourite place in the world - the Fisher family's beach house. It has everything a girl could want: a swimming pool, a private stretch of sandy beach... and two (very cute) boys:
Unavailable, aloof Conrad - who she's been in love with forever
Friendly, relaxed Jeremiah- the only one who's ever really paid her any attention.
But this year something is different. This year, the boys seem to really notice Isabel for the first time. It's going to be an amazing summer - and one she'll never forget . . .
Camino Rios lives for the summers when her father visits her in the Dominican Republic. But this time, on the day when his plane is supposed to land, Camino arrives at the airport to see crowds of crying people...   In New York City, Yahaira Rios is called to the principal's office, where her mother is waiting to tell her that her father, her hero, has died in a plane crash.   Separated by distance-and Papi's secrets-the two girls are forced to face a new reality in which their father is dead and their lives are forever altered. And then, when it seems like they've lost everything of their father, they learn of each other.  Papi's death uncovers all the painful truths he kept hidden, and the love he divided across an ocean. And now, Yahaira and Camino are both left to grapple with what this new sister means to them, and what it will now take to keep their dreams alive.
Alice lives in a world of stifling privilege and luxury - but none of it means anything when your own head plays tricks on your reality. When her troubled friend Bunny goes missing, Alice becomes obsessed with finding her. On the trail of her last movements, Alice discovers a mysterious invitation to 'Wonderland': the party to end all parties - three days of hedonistic excess to which only the elite are welcome. Will she find Bunny there? Or is this really a case of finding herself? Because Alice has secrets of her own, and ruthless socialite queen Paisley Hart is determined to uncover them, whatever it takes. Alice is all alone, miles from home, and now she has a new enemy who wants her head...
A Japanese teenager, Mizuki, is worried about her grandfather who is clearly desperately upset about something. He says that he has never got over something that happened in his past and gently Mizuki persuades him to tell her what it is. We are taken to 1945, Hiroshima, and Mizuki's grandfather as a teenage boy chatting at home with his friend Hiro. Moments later the horrific nuclear bomb is dropped on Hiroshima. What follows is a searing account of the blinding flash, the harrowing search for family and the devastation both human and physical. There is also the very moving and human story as the two teenage boys with great bravery search for and find Keiko, Hiro's five-year-old sister. But then Keiko is lost when Mizuki's grandfather has no option but to leave her in a safe place while he goes for help... Despite a desperate search in the aftermath of the bomb, where he leaves origami folded paper cranes for Keiko with his address on everywhere a survivor could be, he cannot find her... A powerful novel that, despite its harrowing subject matter, has hope at its heart
When Adelaide Buchman's younger brother succumbs to a drug overdose, she saves his life. In the aftermath, looking for distraction, she becomes a stylish, bright charmer who blows off school and falls madly in love - even though her heart is shattered.

Adelaide is catapulted into a summer of wild possibility, during which she will fall in and out of love a thousand times while finally confronting her brother, their history, and her own strength.

A raw and funny story that will surprise you over and over, Adelaide is an indelible heroine grappling with the terrible and wonderful problem of loving other people.