April 2022
Fiction Books
Sea of Tranquility by Emily St. John Mandel
In this captivating tale of imagination and ambition, a seemingly disparate array of people come into contact with a time traveller who must resist the pull to change the past and the future. The cast includes a British exile on the West coast of Canada in the early 1900s; the author of a bestselling novel about a fictional pandemic who embarks on a galaxy-spanning book tour during the outbreak of an actual pandemic; a resident of a moon colony almost 300 years in the future; and a lonely girl who films an old-growth forest and experiences a disruption in the recording. Blurring the lines between reality and fantasy, Emily St. John Mandel's dazzling story follows these engrossing characters across space and time as their lives ultimately intersect.
Portrait of a Thief by Grace D.Li
History is told by the conquerors. Across the Western world, museums display the spoils of war, of conquest, of colonialism: priceless pieces of art looted from other countries, kept even now. Will Chen plans to steal them back. A senior at Harvard, Will fits comfortably in his carefully curated roles: a perfect student, an art history major and sometimes artist, the eldest son who has always been his parents' American Dream. But when a mysterious Chinese benefactor reaches out with an impossible—and illegal—job offer, Will finds himself something else as well: the leader of a heist to steal back five priceless Chinese sculptures, looted from Beijing centuries ago.
His crew is every heist archetype one can imagine—or at least, the closest he can get. A con artist: Irene Chen, a public policy major at Duke who can talk her way out of anything. A thief: Daniel Liang, a premed student with steady hands just as capable of lockpicking as suturing. A getaway driver: Lily Wu, an engineering major who races cars in her free time. A hacker: Alex Huang, an MIT dropout turned Silicon Valley software engineer. Each member of his crew has their own complicated relationship with China and the identity they've cultivated as Chinese Americans, but when Will asks, none of them can turn him down.
Because if they succeed? They earn fifty million dollars—and a chance to make history. But if they fail, it will mean not just the loss of everything they've dreamed for themselves but yet another thwarted attempt to take back what colonialism has stolen.
Equal parts beautiful, thoughtful, and thrilling, Portrait of a Thief is a cultural heist and an examination of Chinese American identity, as well as a necessary critique of the lingering effects of colonialism.
Gillian recommends: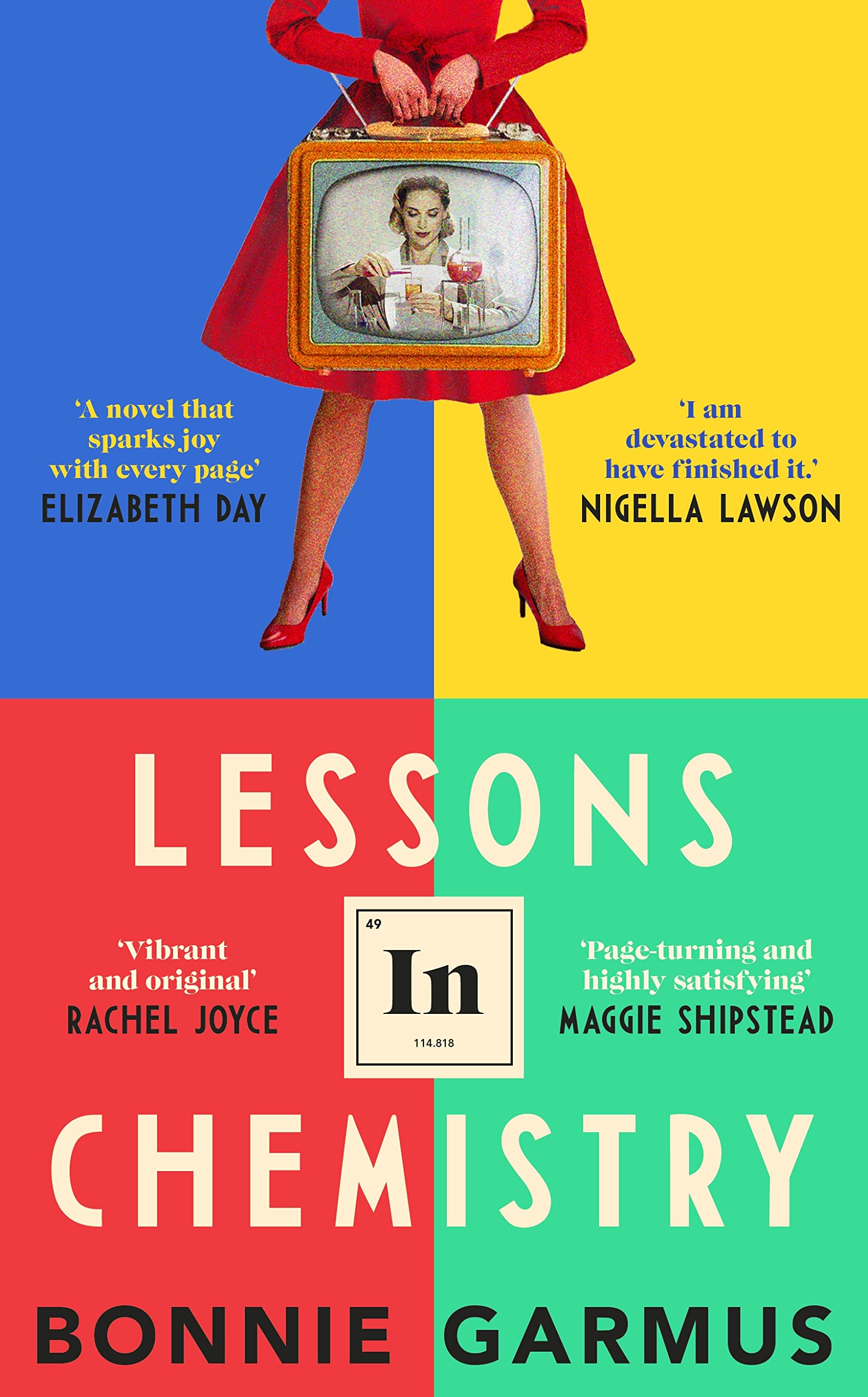 Lessons in Chemistry by Bonnie Garmus
Chemist Elizabeth Zott is not your average woman. In fact, Elizabeth Zott would be the first to point out that there is no such thing. But it's the early 1960s and her all-male team at Hastings Research Institute take a very unscientific view of equality. Except for one: Calvin Evans, the lonely, brilliant, Nobel-prize nominated grudge-holder who falls in love with - of all things - her mind. True chemistry results.
Like science, life is unpredictable. Which is why a few years later, Elizabeth Zott finds herself not only a single mother, but the reluctant star of America's most beloved cooking show, Supper at Six. Elizabeth's unusual approach to cooking ('combine one tablespoon acetic acid with a pinch of sodium chloride') proves revolutionary. But as her following grows, not everyone is happy. Because as it turns out, Elizabeth Zott isn't just teaching women to cook. She's daring them to change the status quo.

The Candy House by Jennifer Egan

It's 2010. Staggeringly successful and brilliant tech entrepreneur Bix Bouton is desperate for a new idea. He's forty, with four kids, and restless when he stumbles into a conversation with mostly Columbia professors, one of whom is experimenting with downloading or "externalising" memory. Within a decade, Bix's new technology, Own Your Unconscious--that allows you access to every memory you've ever had, and to share every memory in exchange for access to the memories of others--has seduced multitudes. But not everyone.
In spellbinding linked narratives, Egan spins out the consequences of Own Your Unconscious through the lives of multiple characters whose paths intersect over several decades. Intellectually dazzling and extraordinarily moving, The Candy House is a bold, brilliant imagining of a world that is moments away. With a focus on social media, gaming, and alternate worlds, you can almost experience moving among dimensions in a role-playing game. Egan takes her "deeply intuitive forays into the darker aspects of our technology-driven, image-saturated culture" (Vogue) to stunning new heights and delivers a fierce and exhilarating testament to the tenacity and transcendence of human longing for real connection, love, family, privacy and redemption.
Paradais by Fernanda Melcho & Sophie Hughes (Translator)
 Inside a luxury housing complex, two misfit teenagers sneak around and get drunk. Franco Andrade, lonely, overweight, and addicted to porn, obsessively fantasizes about seducing his neighbor - an attractive married woman and mother - while Polo dreams about quitting his gruelling job as a gardener within the gated community and fleeing his overbearing mother and their narco-controlled village. Each facing the impossibility of getting what he thinks he deserves, Franco and Polo hatch a mindless and macabre scheme. Written in a chilling torrent of prose by one of our most thrilling new writers, Paradais explores the explosive fragility of Mexican society - with its racist, classist, hyperviolent tendencies - and how the myths, desires, and hardships of teenagers can tear life apart at the seams.
I'll Be You by Janelle Brown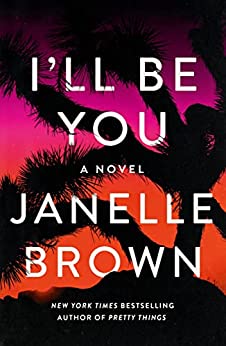 As children, Sam and Elli were two halves of a perfect whole: gorgeous identical twins whose parents sometimes couldn't even tell them apart. They fell asleep to the sound of each other's breath at night, holding hands in the dark. And once Hollywood discovered them, they became B-list child TV stars, often inhabiting the same role. But as adults, their lives have splintered. After leaving acting, Elli reinvented herself as the perfect homemaker: married to a real estate lawyer, living in a house just blocks from the beach. Meanwhile, Sam has never recovered from her failed Hollywood career, or from her addiction to the pills and booze that have propped her up for the last fifteen years.
Sam hasn't spoken to her sister since her destructive behavior finally drove a wedge between them. So when her father calls out of the blue, Sam is shocked to learn that Elli's life has been in turmoil: her husband moved out, and Elli just adopted a two-year-old girl. Now she's stopped answering her phone and checked in to a mysterious spa in Ojai. Is her sister just decompressing, or is she in trouble? Could she have possibly joined a cult? As Sam works to connect the dots left by Elli's baffling disappearance, she realizes that the bond between her and her sister is more complicated than she ever knew.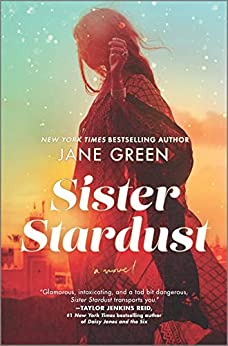 Sister Stardust by Jane Green

In her first novel inspired by a true story, Jane Green re-imagines the life of troubled icon Talitha Getty in this transporting story from a forgotten chapter of the Swinging '60s.
From afar Talitha's life seemed perfect. In her twenties, and already a famous model and actress, she moved from London to a palace in Marrakesh, with her husband Paul Getty, the famous oil heir. There she presided over a swirling ex-pat scene filled with music, art, free love and a counterculture taking root across the world.

When Claire arrives in London from her small town, she never expects to cross paths with a woman as magnetic as Talitha Getty. Yearning for the adventure and independence, she's swept off to Marrakesh, where the two become kindred spirits. But beneath Talitha's glamourous facade lurks a darkness few can understand. As their friendship blossoms and the two grow closer, the realities of Talitha's precarious existence set off a chain of dangerous events that could alter Claire's life forever.



Short Stories
Nobody Gets Out Alive by Leigh Newman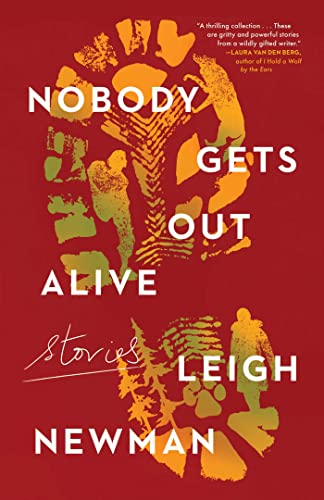 Set in Newman's home state of Alaska, Nobody Gets Out Alive is a collection of dazzling, courageous stories about women struggling to survive not just grizzly bears and charging moose but the raw, exhausting legacy of their marriages and families. In "Howl Palace"—winner of The Paris Review's Terry Southern Prize, a Best American Short Story, and Pushcart Prize selection—an aging widow struggles with a rogue hunting dog and the memories of her five ex-husbands while selling her house after bankruptcy. In the title story, "Nobody Gets Out Alive," newly married Katrina visits her hometown of Anchorage and blows up her own wedding reception by flirting with the host and running off with an enormous mastodon tusk.
Alongside stories set in today's Last Frontier—rife with suburban sprawl, global warming, and opioid addiction—Newman delves into remote wilderness of the 1970s and 80s, bringing to life young girls and single moms in search of a wilder, freer, more adventurous America. The final story takes place in a railroad camp in 1915, where an outspoken heiress stages an elaborate theatrical in order to seduce the wife of her husband's employer, revealing how this masterful storyteller is "not only writing unforgettable, brilliantly complex characters, she's somehow inventing souls.
Non Fiction Reads for April 2022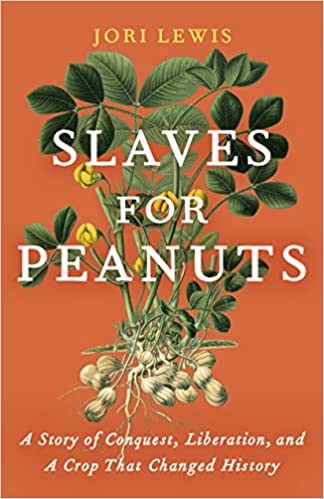 Slaves for Peanuts: A Story of Conquest, Liberation, and a Crop That Changed History by Jori Lewis
A stunning work of popular history—the story of how a crop transformed the history of slavery.
Americans consume over 1.5 billion pounds of peanut products every year. But few of us know the peanut's tumultuous history, or its intimate connection to slavery and freedom. Lyrical and powerful, Slaves for Peanuts deftly weaves together the natural and human history of a crop that transformed the lives of millions. Author Jori Lewis reveals how demand for peanut oil in Europe ensured that slavery in Africa would persist well into the twentieth century, long after the European powers had officially banned it in the territories they controlled. Delving deep into West African and European archives, Lewis recreates a world on the coast of Africa that is breathtakingly real and unlike anything modern readers have experienced. Slaves for Peanuts is told through the eyes of a set of richly detailed characters—from an African-born French missionary harboring runaway slaves, to the leader of a Wolof state navigating the politics of French imperialism—who challenge our most basic assumptions of the motives and people who supported human bondage.
At a time when Americans are grappling with the enduring consequences of slavery, here is a new and revealing chapter in its global history.

Left on Tenth: A Second Chance at Life: A Memoir by Delia Ephron
Delia Ephron had struggled through several years of heartbreak. She'd lost her sister, Nora, and then her husband, Jerry, both to cancer. Several months after Jerry's death, she decided to make one small change in her life—she shut down his landline, which crashed her internet. She ended up in Verizon hell. She channeled her grief the best way she knew: by writing a New York Times op-ed. The piece caught the attention of Peter, a Bay Area psychiatrist, who emailed her to commiserate. Recently widowed himself, he reminded her that they had shared a few dates fifty-four years before, set up by Nora. Delia did not remember him, but after several weeks of exchanging emails and sixties folk songs, he flew east to see her. They were crazy, utterly, in love. But this was not a rom-com: four months later she was diagnosed with AML, a fierce leukemia.
In Left on Tenth, Delia Ephron enchants as she seesaws us between tears and laughter, navigating the suicidal lows of enduring cutting-edge treatment and the giddy highs of a second chance at love. With Peter and her close girlfriends by her side, with startling clarity, warmth, and honesty about facing death, Ephron invites us to join her team of warriors and become believers ourselves.