Online Language Courses
Learn languages online for free
Transparent Language Online provides a fun, effective, and engaging experience for learners of all levels looking to build their listening, speaking, reading, and writing skills in a foreign language. Combining extensive courses and supplemental resources for 100+ languages, including English, Transparent Language Online is the most complete language-learning system.
NOTICE: Changes to Access
From 1.30 pm on Tuesday, May 18th access to Transparent Language Online will be moving to direct Transparent Language Online access and will no longer be available through RBdigital but will be available directly through the link below
If you have an existing Transparent Language Online account you should use the same email address that you used to access RBdigital, but you will need to do a "password reset" in Transparent Language Online to access your account.
Competition Time
Join the One Week Streak Challenge! And have 2 chances to win a €100 Voucher.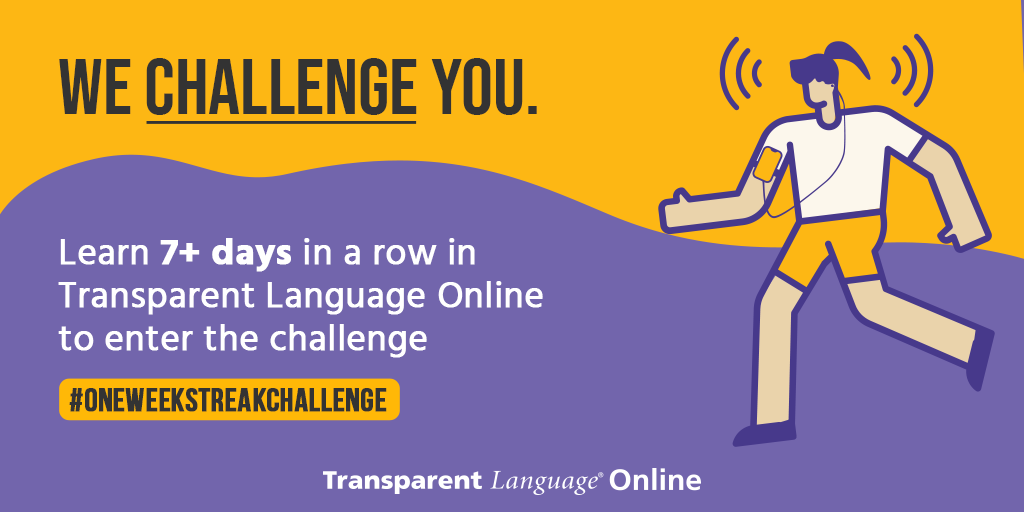 Transparent Language Online are offering you (and your library) the chance to win a €100 Amazon gift voucher this September by taking part in the One Week Streak Challenge.
And we at Meath Libraries are matching their prize of €100 with a special draw just for Meath learners.  One lucky winner of the challenge will receive a €100 Mí Meath Card - a new shop local card exclusively for use in County Meath. #shoplocal 
How do I enter the challenge?
Set a daily learning goal of 5 minutes or greater in your Transparent Language Online for Libraries account.
Meet your daily goal for 7 consecutive days to earn a 7-day streak.
Take a screenshot of your learning streak and share it on Instagram and/or Twitter. In your post:
What's up for grabs?
By October 14th, Transparent will randomly choose three winners, each of whom will receive:
A €100 Amazon gift card for themselves
A €100 Amazon gift card for their library
By October 14th Meath Libraries will choose one winner who will receive 
A €100 Mí Meath card to spend in Meath (either in store or online where applicable)
Read the official rules here and get ready to rise to the challenge in September. We'll be rooting for you!
Getting Started
To use this resource you will need to create an account. Follow the steps below to get started. 
Visit Transparent Language Online 
Click on Sign Up to create an account.  You will need your library card number for this. 
Go mobile
Once you have created an account you can then download the mobile app from the App Store, from Google Play and from the Amazon store and learn on the go.  You will need an internet connection to use the app.
You can log in to the app using the username and password that you used when creating your account.
Help
For an overview of Transparent Language Online see the video tutorial below
You can also download the How to Guide below.
If you need more help please contact eservices@meathcoco.ie  
Transparent Language Online How To Guide