County Meath is twinned with:
The Sister Cities Project has proven to be invaluable in creating and sustaining the links between our two communities which emphasise what we share rather than what sets us apart. It has provided us with a unique opportunity to share our experiences of civic cultural and commercial life.
The benefits of twinning are that it can provide opportunities to share problems, exchange experience or best practice and understand different viewpoints on issues where there is a shared interest or concern. It can also foster stronger economic, social and cultural links between Meath and other parts of the world.
At county level, the Council has two formal agreements, with Guiyang (agreement signed in 2014) and also with Cary, North Carolina, in the United States, which was established in 2001.
At Sub-County level, there are a number of agreements in place, such as those on the table shown.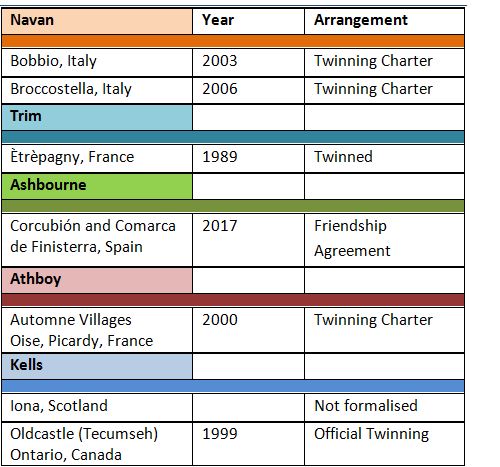 Twinned Towns
Navan Town:  Bobbio, Italy  & Broccostella, Italy
Trim:  Éntrépagny, France
Kells: Iona, Scotland
Oldcastle: Tecumseh, Canada
Athboy: The Autonne Villages, Picardy, France 
Ashbourne: Corcubion, Spain
Guizhou Delegation Visit
On 20 September 2019, Meath County Council hosted the Governor of Guizhou Province, Ms Shen Yiqin, and the Mayor of Guiyang City, Mayor Chen Yan and a number of other senior officials from China, in Buvinda House.
Meath has a Sister-Cities Agreement with Guiyang stretching back five years and the meeting with the Chinese delegation focused on potential opportunities for future cooperation, including investments in areas such as big data, food and supporting tourism and other exchanges.