About the National Broadband Plan
About the National Broadband Plan
A Government wide initiative to deliver high speed broadband services to all businesses and households in Ireland
The Department of Environment, Climate and  Communications  published the  National Broadband Plan (NBP) in August 2012. This is a Government wide initiative to deliver high speed broadband services to all businesses and households in Ireland This is being achieved through a combination of:
Commercial investment by the telecommunications sector and

A State Intervention in those areas where commercial providers acting alone will not provide this essential service
To enable you to find out how your premises will be connected to high speed internet the Government has created the High speed Broadband Map with Dark Blue, Light blue and Amber areas. These areas identify where commercial investment is taking place and where the intervention areas are located for future state supported connections.
Commercial Investment
The NBP has acted as a catalyst to commercial investment by the telecommunications sector.
Since the publication of the NBP in 2012, the commercial telecommunications sector has invested over €2.75bn. This was spent on upgrading and modernising networks which support the provision of high-speed broadband and mobile telecommunications services.
Today approximately 1.78m or 75% of premises in Ireland can access commercially available high-speed broadband services. Significant additional investment is expected as commercial operators continue to invest heavily in upgrading their networks to provide Fibre broadband to customers.
The BLUE areas in the High-Speed Broadband Map are areas where commercial operators have rolled out high speed broadband network with a minimum of 30 Mbs. They have now committed to delivering fibre to the premises (FTTP) broadband in areas previously serviced by Fibre to the Cabinet (FTTC areas).
Intervention Strategy
National Broadband Ireland (the Granahan McCourt Company delivering the plan) will supply broadband to the one quarter of Irish people and premises which currently cannot access high-speed broadband through commercial services. It guarantees a level playing field for 1.1 million people, 537,596 premises including 100,000 businesses and farms, and over 679 schools, where commercial operators will not commit to deliver high speed broadband. 
Those 1.1 million people in rural Ireland will get the same opportunities as urban Ireland and will be able to avail of the range of new opportunities that high speed broadband has and will deliver. Without it, they won't have guaranteed access to these opportunities. It opens up:
Flexible and remote working

Smart health with online GP and nursing services and medical monitoring

Cloud based services and connected devices

Smart farming opportunities

Digital learning

Reliable electronic payments and bookings
€80 million will be invested in the non-commercial "The Intervention Area" in Meath which includes 20,543 premises who do not have access to High Speed Internet Access.
The Intervention Area is identified as AMBER on the High Speed Broadband Map. 
You can use the Map to see if you will be covered by commercial operators or are in an area of the country that the State intervention will address.
The approved plan will provide fibre to 98% of all premises with speeds starting from 500mb/s for residential users and much higher speeds available for business.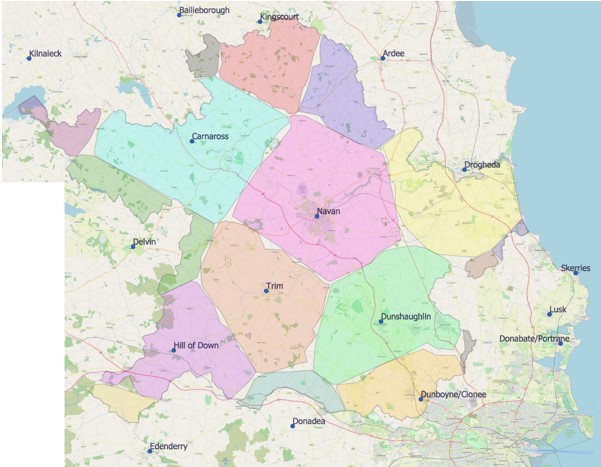 The NBP rollout has commenced in Co. Meath and progress on the NBP can be checked on NBI's website. To keep informed of progress to deliver fibre broadband to you house you should register for updates on site. NBI will advise when works are being carried out and when you will be able to pre-order a connection from one of their partner retail service providers.
As the NBP could take up to 2026 to deliver high speed internet to all homes, a number of Broadband Connection Points (BCPs) will act as hotspots providing free Wi-Fi in local communities.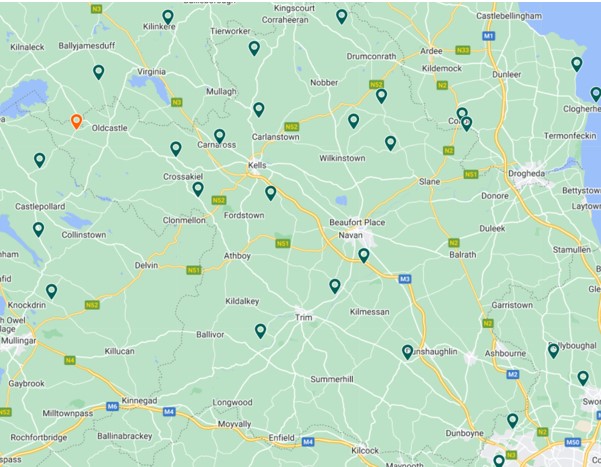 There are 16 BCPs in Co. Meath offering a range of services to their communities supported by Meath County Council.
Further information along with contact details, events and initiatives being delivered through the BCPs can be found on the My Connected Community Portal.