Benefits of Working for Meath County Council
Benefits of Working for Meath County Council
Why work in Meath County Council?
Meath County Council tries to attract and retain a talented and motivated people, from diverse backgrounds and experiences, who will take pride in their work and make a positive difference to the lives of citizens in Meath County Council.
By working as a staff member at Meath County Council you will be making your contribution to this county's development as the best possible place in which to live, work and do business. As a staff member, you will be given a range of opportunities to positively engage with citizens, businesses and communities to make a positive impact upon their daily lives.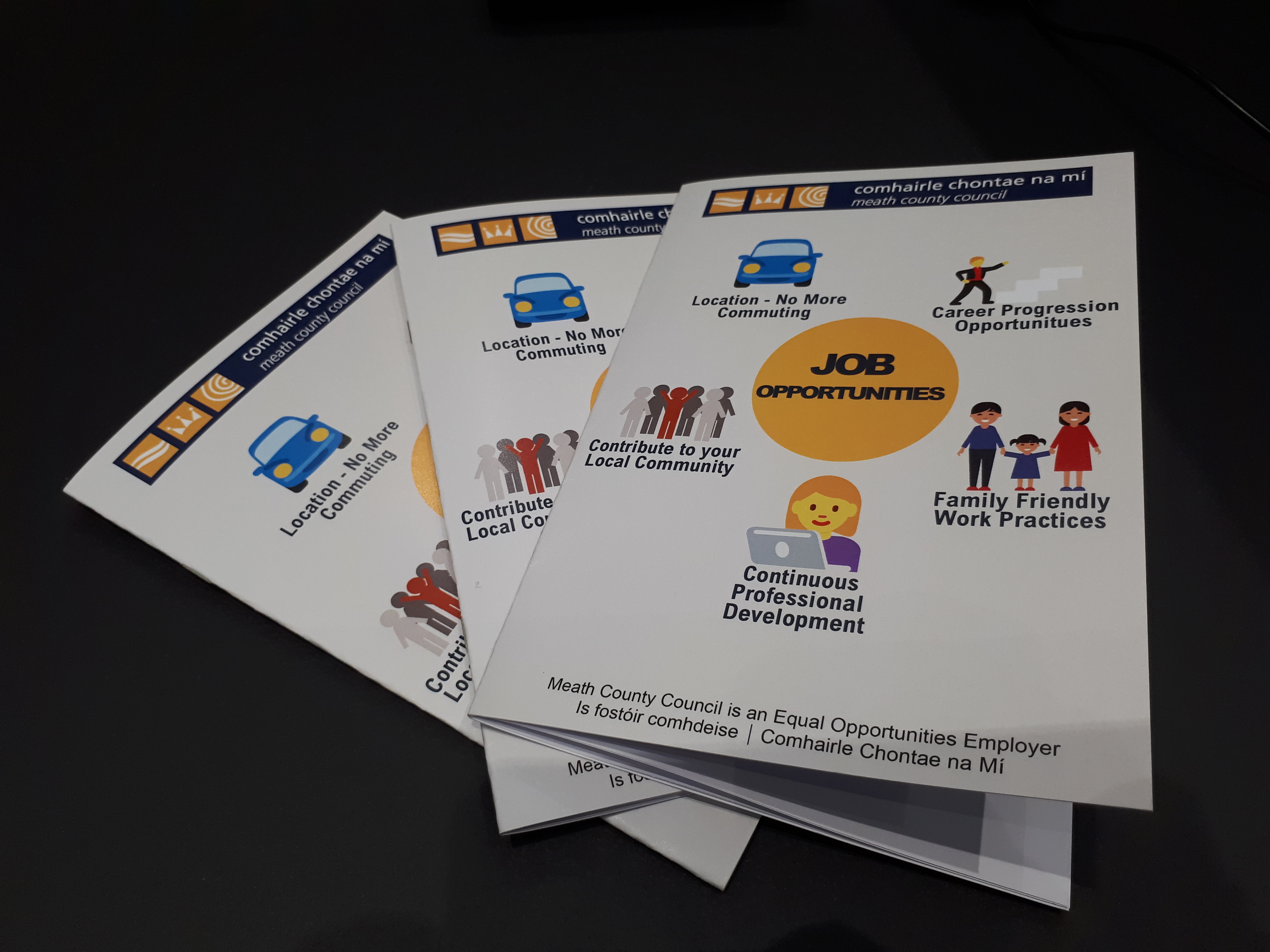 Meath County Council is a large local authority that provides a broad and diverse range of services to local communities. These services include housing, roads, enterprise units, parks and playgrounds, libraries, swimming pool, arts centres, community infrastructure, litter control, and financial supports. We support local economic and community development and serve as a platform for local democracy and engagement. As a staff member, you will become a valued member of our teams of an overall organisation of 850 staff. There are excellent career opportunities available in a wide range of administrative, professional, creative, technical, and general services roles.
Employees are provided with opportunities to learn, develop and grow through staff mobility and career development, a comprehensive training and development programme and the provision of financial assistance to staff undertaking further education.
The Council recognises the importance of work life balance and supports family friendly initiatives such as flexi-time, work-sharing, paid maternity leave and paternity leave, as well as generous annual leave allowances. There is free staff parking and a restaurant on site.
The well-being of employees is a priority for the Council so we provide free flu inoculation, a confidential Staff Welfare Service, and our optical benefit scheme. We also host a range of ongoing health and well-being initiatives throughout the year. Employees can join the Staff Social Club and Navan Credit Union and can also take part in the numerous social events organised such as golf outings, trips to the theatre etc. Staff may also avail of tax saver schemes such as the cycle to work scheme.
Human Resource Policy and Practice
It is the policy of Meath County Council to recruit and retain staff in accordance with best Human Resource practices. This allows the Council to provide an efficient and effective service to its citizens.
There are excellent career opportunities available in a wide range of administrative, professional, creative, technical, and general services roles.
Recruitment and Selection Procedure:
It is the policy of Meath County Council that the recruitment and selection procedure shall be operated in an open and fair manner, in line with good practice recruitment and selection standards, employment legislation and relevant circulars from the Department of Housing, Planning & Local Government.
There are protocols in relation to the filling of vacancies, for example, the Public Appointments Service is responsible for the filling of specific senior posts in the local authority and the filling of all other posts will be managed by the individual local authority through confined or open competitions.
The recruitment and selection procedure applies to candidates for all competitions (internal/external) i.e. employees of the Council and any external candidates. This procedure covers all activities that form part of the recruitment and selection process. See below.
Recruitment and Selection Procedure